Check out this new still from Pacific Rim, featuring Charlie Hunnam and Rinko Kikuchi: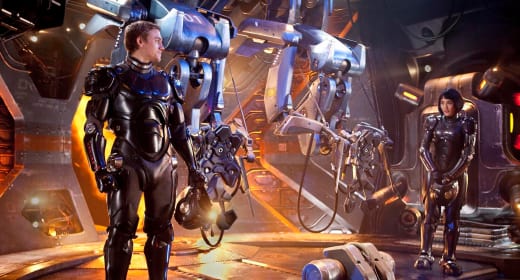 Hunnam and Kikuchi star as a pilot named Raleigh and trainee named Mako tasked with saving the world after legions of giant monsters rise from the sea. When an army of human-controlled robots fails, Raleigh and Mako must man a retired machine to defeat the monsters.
Idris Elba (Prometheus, Thor), Ron Perlman (Hellboy, Drive), and Charlie Day (It's Always Sunny in Philadelphia, Horrible Bosses) also star.
Guillermo Del Toro directs the film, which pays homage to Japanese monster movies. Pacific Rim premieres on July 12, 2013. Check out our interview with Guillermo Del Toro from Comic-Con for the inside scoop on the film.