For the bestselling author of Savages, witnessing characters he created live and breathe on the silver screen was an otherworldly experience. "It's wild. It's crazy," Don Winslow told us exclusively from his San Diego home.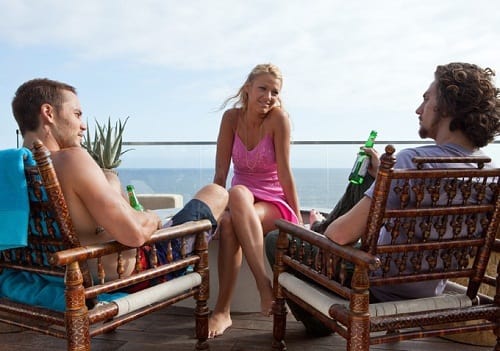 "You're sitting a few years ago with these little ideas in your head and these characters. Then a couple of years down the line -- it's been really fast -- you're sitting in this movie theater with a bunch of people looking up at this big screen and now they're doing things and saying things that you had thought about, or just interior thoughts," Winslow said.
"It's trippy. It's crazy. I don't think I'm doing a very good job of describing it, except to say it was at the same time kind of nervous making and exciting and strange."
There is none trippier than Oliver Stone. When asked about the legendary filmmaker, Winslow smiled. "Well, he's Oliver Stone. It's everything you'd expect," he said and laughed.
"It was an intense experience. Oliver is Oliver. He's made some of the most iconic movies of all time."
What clearly rocked his world is how a screen icon in John Travolta was portraying one of those characters he created long ago.
"That's John freaking Travolta," Winslow said, laughing. But in all honesty, he was equally as impressed with that entire cast featured on the
Savages poster
.
"I felt that way kind of across the board, looking at Salma Hayek and
Benicio Del Toro
, and also the younger cast, Aaron Johnson, Taylor Kitsch and Blake Lively. It was a lot of fun. But again, I live in this little town and live a quiet, contained life, so seeing that burst out on the screen and knowing that millions of people went to see it last weekend, it's an experience."
As job creation dominates the evening news, Winslow felt a certain level of patriotic fervor in bringing employment to several hundred people, all due to his prose.
"It's a bit of a cliché, but it was also humbling. One of the nicest things for me about the book being made into a film because I also sat through the end of the credits and it made me feel so good that so many people got work," Winslow admitted.
"With all of the stars and Oliver and all that, believe me that's great and exciting and very gratifying, but one of the most gratifying things I thought about while I was watching it, especially when the credits were rolling in the end, was I'm just really glad that a bunch of people got to pay their bills, do stuff and pay tuition and all that kind of stuff -- that made me feel good."
When it comes to where the
Savages
story came from, the author gets as real as possible.
"The hit clip that starts the film is very real -- not the one in the film. There was a video clip of seven decapitated bodies that was sent to me via email. That's the origins story of that tale," Winslow said and paused.
That's all the specifics he'll share about the haunting video he received. Yet, even with the horror that surrounds chronicling the work of the drug cartels and those ensnarled in its grasp, Winslow sought to tell a tale about family. It is one that resonates further in his literary prequel out now,
Kings of Cool
.
"I want to tell stories about people in generations and families and so I don't think just seeing the film clip would have been motivation enough as grizzly and upsetting as it was. I've been wanting to write about that culture and that sub-culture for a while, the whole Laguna Beach/Orange County kind of thing, which I did in
Savages
in a very fast kind of way. I just had this book come out,
The Kings of Cool
, which is a prequel to
Savages
, which tells the story of really the origin of the drug trade in Southern California."
That feeling of family and its varying of definitions is what led the hit movie's book author to delve deeper… into the past for
Kings of Cool
.
"
Kings of Cool
is a story about families. Really,
Savages
is in a way too. I always knew the origins story of those characters, of the culture, of the drug trade. When I was writing
Savages
, those origins stories informed those characters and I hoped it's what helped make them real and immediate to people," Winslow reflected. "They're forced to choose between their blood families and the families that they've created among their friends. That's the story I was really trying to tell with
Kings of Cool
."
He knew then he had a prequel. "They were the bottom of the iceberg, if you will. This sounds presumptuous, but I wanted to tell a story about America, a little bit, about the trip the country has taken over those decades, as seen through the filter of the drug trade," Winslow said. "That was a big motivation."