When it came to joining Oliver Stone's effort to bring Don Winslow's bestseller Savages to the big screen, Benicio Del Toro had too many reasons to say yes. "The book is fantastic -- the satire of it. I've done stuff like this before, but for me, Oliver Stone directing, the cast… that makes you want to get up and work," Del Toro said.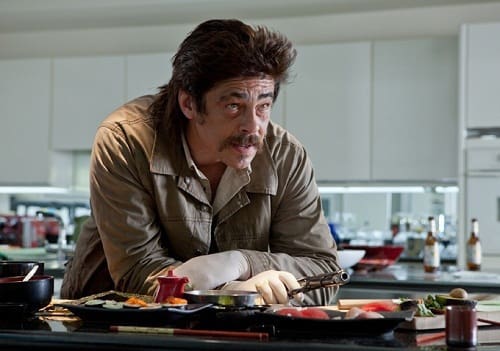 Movie Fanatic caught up with the Oscar winner to talk about the film that clearly holds a special place in Del Toro's heart. Portraying a strong man to a drug kingpin (Salma Hayek) and sharing many of his scenes with his
Che
co-star Demian Bichir were simply added bonuses. "It is a pleasure to work with someone who you admire," Del Toro said of Bichir.
"Demian is someone who gets that whatever you do in front of the camera, I don't know what it is, but actors have this thing that you recognize someone that makes you better. And when you do that, it's a great feeling. It's like playing a sport. It's a lot of fun."
And of course, he achieved many an actor's life goal by working alongside the stellar cast -- as seen in the
Savages poster
-- with Stone. "The main reason for me to make
Savages
was
Oliver Stone
as a filmmaker," Del Toro added.
"He will want you to think and he'll want you to make sure that you commit to it. He might present some questions that make you think about your choices, and sometimes you have to be on your toes. But he allowed a sense of being able to be free, to explore things. And then when you're working with actors like Demian, it makes it easier in a way to explore things. But Oliver makes sure that you understand where you are in the story. He knows that story back and forth."
Del Toro didn't shy away from his character as a hired killer for Hayek's drug dealer. "I've played drug dealers all my life. I've made a career of killing people -- all kinds of killers, all kinds of people," he said and laughed.
His response to critics who assail against minorities portraying seedy characters on screen is fascinating. "Listen, I think you're right in a way that as a Latino, you think about the portrait of the Latino. But it's not one-handed, necessarily. There's not a lot of issues that get explored on the other side -- on both sides, whether it's Latino or, in this case, American," Del Toro said.
"So there is some sort of balance. It's not blaming one person. I think that when you blame just one group, it's a problem. But I think that here, in the way I look at it, it's a bigger issue. The message of the picture is the violence, drugs. And the way it portrays an exaggeration of this is fiction. So it is that, for me. I do understand the issue, the concern of it -- but for me, that is how I looked at it. It's more complex. And, you know, sometimes truth is stranger than fiction. Just open a newspaper."