Savages Interview: Taylor Kitsch & Aaron Johnson on Movie Brotherhood
by Joel D Amos at . Comments
Taylor Kitsch and Aaron Johnson were more than delighted with their chance to join the all-star cast that is so prominently shown off in the Savages poster. "It's something that you'll have for a long time," Kitsch told Movie Fanatic of working with John Travolta, Benicio Del Toro, Salma Hayek and, of course, director Oliver Stone.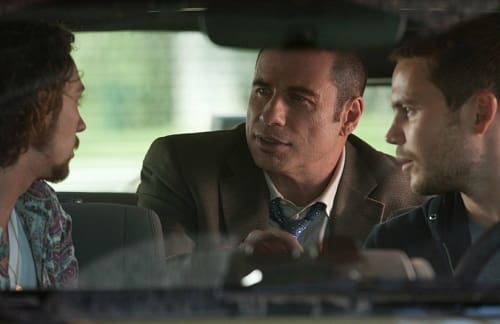 Savages
follows a pair of best friends who just happen to run the most successful marijuana growing business in Southern California. They share a girlfriend in O (Blake Lively) and neither think, as it is portrayed on screen, it's about some purely sexual threesome. This is romance to the third power.
"I think it's more of the trust thing. For us, it was more of a brotherhood. It really does come down to the trust and that was such an integral part of the movie because we have barely any scenes with her so we had to get it basically in one scene. In one scene we had to show this connection between three people that would literally die for each other," Kitsch said.
Johnson believes that it's more of a two halves of one person type of situation. "I think we're really a yin and yang because Chon (Kitsch) is this ex-Marine, a kind of fighter, and my character's a more sensitive, hippie kind of guy. So we were that balance that she looks for. I think she's just (expletive) greedy, to be honest," he said and laughed.
"I think that says a lot about these people that there's no shame in their relationship, no jealousy, and it's a bond that's stronger than that. It's sort of a three-way friendship that is based on a lot of loyalty and trust," Kitsch added.
As the Mexican cartel (led by Hayek) moves in and demands a piece of their business, the duo refuses. O is kidnapped and as we said in our
Savages review
, a thriller of the highest order ensues.
Heading into the scenes with legends such as Travolta and Del Toro, the two actors felt they had to be at the top of their game.
"It's John Travolta and Benicio and you just respect those guys. I think it just says so much about Benicio and John that they're just like, 'Yeah, let's make this scene incredibly memorable and let it just serve the script and not selfishly our characters and ourselves,'" Kitsch said.
"They're icons for a good reason. I hold a lot of pride to be working with these guys and Oliver."
Johnson appreciated how much the ensemble allowed a freedom to explore the nuances of every character onscreen. "I think you get that opportunity with this great cast. They're just free to kind of experiment and they're not afraid to," he said.
Having a director in Oliver Stone only added to the creative process. "Oliver is not afraid to allow that kind of creativity to happen," Johnson said.
As the film's plot of the Mexican cartel and the drug war was so timely, Johnson also stated that a fine line had to be keenly watched. "There was a reality barrier that we always were trying to juggle and I think that comes across really well in the film, that you never doubt anything. The situation that they're in, you don't ever find it unbelievable."
Kitsch also reveled in the opportunity to break out of the science fiction mode he explored earlier this year in John Carter and Battleship.

"It's back to being just mano a mano, working with actors and not green screen. It was very refreshing. Both of those films taught me an immense amount of patience and I think I really brought that over to Savages," Kitsch said.

"I really love being on these sets with these actors and being a part of it, not that I didn't with the others. But just to make it as raw as this film is, to get back to what it is, just going off another actor and really searching, creating and collaborating that way is refreshing and I'll stay on that track. No green screen for a while."