Salma Hayek and Blake Lively are the two women who drive the suspense of Oliver Stone's Savages. Hayek's drug lord kidnaps Lively's O which thrusts Taylor Kitch and Aaron Johnson's marijuana kingpins into action to save their girl. The two are on the same page today as they visit with Movie Fanatic to extol the virtues of a unique cinematic sisterhood.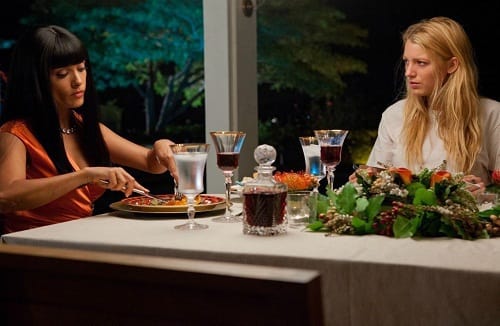 Hayek welcomed the opportunity to portray a character that instilled fear and exuded power. The actress described her inspiration in a coy manner fitting of her character. "I took a collection of different characters that I have met throughout my life. I will not say names. There were some iconic ones," she said.
As we first discovered in our
Oliver Stone interview
, Hayek found the director's words ring true. Stone cherishes performers who challenge him. "Oliver said, 'Why do you always want to wear the same hair and the same necklace?' And I tried to explain to him that these women know they are going to be an icon and they create a character. These women design themselves. They don't want to be versatile. They want you to always remember them," Hayek said.
"I said to Oliver, 'Okay, I have to design her in such a way that somebody could dress up as her for Halloween.' It had to be so identifiable that you could actually impersonate her. I noticed that the people I had met would do that." 
Lively shares a story about how free the cast -- impressively introduced in the
Savages poster
-- was to go the extra mile in order to make this the best movie they could make.
"A lot of this movie just kind of happened, with so many of the key moments, like when I spit in Benicio's face. That was something where Benicio and I were talking about this character, after a take or two, and he said, 'If you feel so angry at me, spit in my face!' I was like, 'I can't do that!,' and he was like, 'No, hock a loogie in my face.' I thought, 'This is the greatest day ever,'" Lively said and laughed.
"Yeah, we were lucky to be in that environment, where we could create and where it wasn't just all hammered out. We rehearsed so much, and yet it didn't make it manufactured. It just gave us the freedom to let the story tell itself."
The women are such polar opposites in
Savages
. Through her research, Hayek found that characters such as hers were not all that rare. "I actually talked to some people involved in the cartel that described, in two different occasions, women that have gotten quite high in the cartel. As a matter of fact, they are incredibly efficient, much more so than men," Hayek said.
Hayek dishes how she found that inner strength to channel someone so ruthless. 
"The women are actually colder. The guy gets angry and thinks he has to do something, and the women are not like that. They are all about the business. They're not about the vendetta, or who is more macho. They're about getting things done. I found that absolutely fascinating."
On the other end of the spectrum, Lively was panicked to jump in the pool that is Stone's Savages. But, it was not because she didn't think she could do it.

"This movie was terrifying, in so many ways, because it's so graphic and so violent. She experiences such an arc that it's challenging, as an actor, and it's also challenging, as a person. I've got a family. I've got nieces and nephews. I've got a young audience from my show (Gossip Girl). That plays into it, too. You have a responsibility to your personal life, too," Lively said.

How Hayek manages to instill the fear of the devil could be found in how she describes her thoughts on audience affinity in a case such as her portrayal of a ruthless drug lord.
 
"I don't care if you hate me or if you like me, as long as somebody gives me a character that is really a character to play. It's fun to be able to have a character and have a director that can direct you into a character. I'm just so happy that I got a good role. I don't care if it's bad or if it's good, and I don't care if it's drama or comedy. They are just so rare to come across."