Singin' in the Rain, the number one musical of all time, according to AFI, is celebrating 60 years by being released in a one-of-a-kind and limited edition Blu-Ray set. Movie Fanatic received the impressive package and could not recommend it more.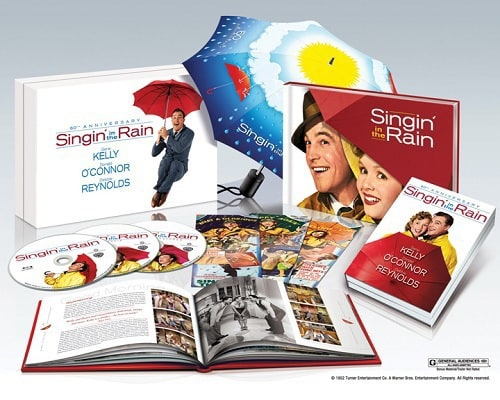 First of all, Gene Kelly's smile has never looked as radiant as it does in hi-def. In fact, the movie is a beauty to behold on so many levels. 
Great sound and picture is to be expected with any Blu-Ray release, but there is something truly special about the job done by Warner Bros. with the
Singin' in the Rain
60th Anniversary edition.
The set we received not only wowed us with the movie itself, but also with what was included in the Blu-Ray limited edition set.
The multi-disc set includes the astounding content listed below. It is one of the best special feature additions for a classic film that we have ever witnessed.
Singin' in the Rain 60th Anniversary Edition Special Features:
Singin' in the Rain: Raining on a New Generation: All-new Documentary presented in High Definition on Blu-ray
Commentary by Stanley Donen, Debbie Reynolds, Donald O'Connor, Cyd Charisse, Kathleen Freeman, screenwriters Betty Comden and Adolph Green, filmmaker Baz Luhrmann, and film historian Rudy Behlmer
Great Performances: Musicals Great Musicals: The Arthur Freed Unit at MGM, a 1996 PBS documentary about the career of producer/songwriter Arthur Freed
The Making of Singin' in the Rain
You are My Lucky Star: Outtake musical number
Nacio Herb Brown/Arthur Freed Film Excerpts (a collection of 12 film clips from earlier films with Freed/Brown songs)
Scoring Stage Session Cues
Stills gallery
Theatrical trailer (below)
Also included in the box set are treats that no Singin' in the Rain fan should be without, including:
48-page hardcover commemorative book that highlights the behind-the-scenes history of how the musical made it to the big screen
Collective full-size umbrella with charm
Original theatrical door panel display reproduction