Karl Urban is here at Comic-Con to talk about the finer points of his sci-fi epic Dredd. We'll have more on that soon, but had to bring you a scoop on what the actor -- known for playing Bones in J.J. Abrams' Star Trek -- said about returning to the Enterprise for Star Trek 2.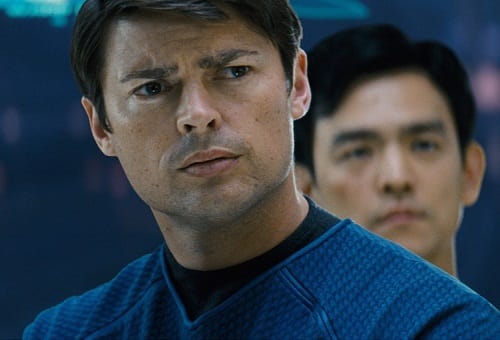 "It was four years since we made the last
Star Trek
. I remember coming to work the first day and I thought I had been transported in a time warp and Obama was about to be elected again. I walked on set and there was the same cast, same crew, same extras. It was so trippy, so weird, but so wonderful to start that again. It was surreal," Urban said.
The second time out found the cast and crew much more comfortable with what they were tackling than the first time around.
"Everyone was a lot more relaxed with each other and when you develop a short hand with colleagues that you have been through the wars with, that's how it felt. It was really interesting to see the evolution in everybody's process."
Recently, Urban got in a little trouble revealing that
Gary Mitchell was the Star Trek 2 villain
. When it comes to any further information, the actor is rightfully coy. "I'm not at liberty to discuss that," Urban said.
When pressed to discover how much trouble he was in for letting something slip from the super-secret set, he gave us a glimpse. "There might have been a call or two."
He then teased that the first video images from the highly anticipated sequel will be available for fans any moment now. "There
will
be some footage from the new
Star Trek
," Urban added.
Hope he doesn't get in trouble for revealing that.