Star Trek Villain May or May Not Have Been Leaked: Benedict Cumberbatch as Gary Mitchell?
by Micah J Gordon at . Comments
All those involved in the upcoming Star Trek sequel have really been keeping Trekkies on their toes, at least when it comes to who exactly the villain will be. There had been rumors that Khan would be involved in the second film from J.J. Abrams. Those rumors were then denied.
Then, a Star Trek 2 set photo of Benedict Cumberbatch and Zachary Quinto seemed to suggest that Cumberbatch would be playing a good-guy-turned-bad in the new film. Now, in an interview with SFX, Karl Urban (Dredd) leaked that Cumberbatch will play Gary Mitchell.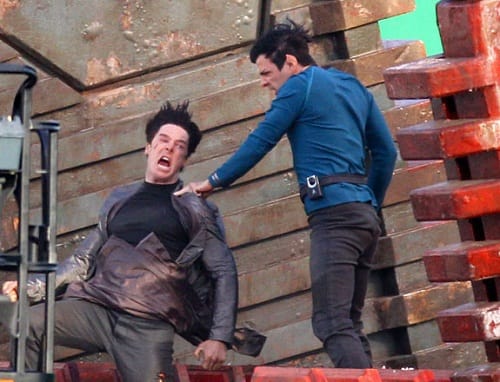 Mitchell is an old acquaintance of Captain Kirk who is transformed into a villain with god-like powers. His character was introduced in the second pilot episode of the original Star Trek series.
While it seems on the surface to be a straight-forward admission, Screenwriting Roberto Orci has stated explicitly that Mitchell would not be a character in the upcoming film. J.J. Abrams and company do have a history of misdirection, however, so it's hard to figure out exactly what this means.
Chris Pine, Zoe Saldana, Anton Yelchin, John Cho, and Simon Pegg star alongside Cumberbatch, Quinto and Urban in the new film. We may have to wait until the Star Trek sequel comes out on May 17, 2013 to know for certain who Cumberbatch will play.