Denis Leary is well known for playing New York's finest. His work on Rescue Me was legendary and now his Captain Stacy from The Amazing Spider-Man has him switching uniforms from FDNY to the NYPD in director Marc Webb's reboot of the superhero franchise.
We caught up with the actor for an exclusive interview in New York City and felt quite safe alongside the man who actually believes that he is not the heroic type. "When you look at me, you don't think authority figure," Leary said and laughed.
The actor talks to Movie Fanatic about the return of the webbed wonder (which we adored, as per our The Amazing Spider-Man review), how he cannot imagine anyone else being Spider-Man except Andrew Garfield as well as how his beginnings on MTV can be traced back to his days in Boston.

Movie Fanatic: What do you like about playing the real life heroes?

Denis Leary: Tommy Gavin (Rescue Me) is a different story than Captain Stacy because I created that with my partner Peter Tolan. I felt I had a story to tell with this guy. That was kind of a selfish creatively thing and really satisfying. If I was (Spider-Man director) Marc Webb, I wouldn't have thought of me for this role [laughs]. Maybe the guy I played from Thomas Crown Affair had something to do with it. I don't know what he saw in Tommy Gavin that he thought I could play this role -- I'm glad he thought of me.

Movie Fanatic: How nice is it to just act after producing, writing and starring on Rescue Me?

Denis Leary: Not to worry about the production itself... was amazing. Also to work with Marc who's an actor's director on a big action movie, it's unheard of.

Movie Fanatic: There are a lot of beats there where it is very emotional acting in the midst of all this action in The Amazing Spider-Man. You have scenes with your onscreen daughter -- Emma Stone -- and then Andrew at the end. What is it like for you to dig into something so meaty while still rooted in action?

Denis Leary: Every day it was awesome. There were very few days where it was just pure action. You have to do those, but even in those big sequences there were days where we were doing a big piece with emotional power. When I come down in the helicopter and have that conversation with Andrew as Peter, he spent so much time that day and night on that moment I pull his mask off. The recognition between us, which on screen is very brief, is emotional and powerful.

Movie Fanatic: It's not usually like that?

Denis Leary: No, normally it would be the reverse in an action movie or not even in there. It spoils you. I'd have to think twice now if someone said, "I got this great action movie." Who's directing it? How much acting are we going to do? You know? It was a pleasure with Marc.

Movie Fanatic: When you read the script for The Amazing Spider-Man, what struck you the most about this particular story? 

Denis Leary: It read strange, honestly. There was a lot of acting scenes… and then some action. It didn't read like what you would normally get on a big budget movie. When I talked to Marc, I was like, "What's the deal here?" He kept saying, "We're not going to lose a lot of these meaningful scenes where people are interacting with one another. That's the important stuff." I honestly thought he was out of his (expletive) mind. He did 500 Days of Summer, which is why I got on the phone with him in the first place. I thought, "There is no way they're going to let him make this movie."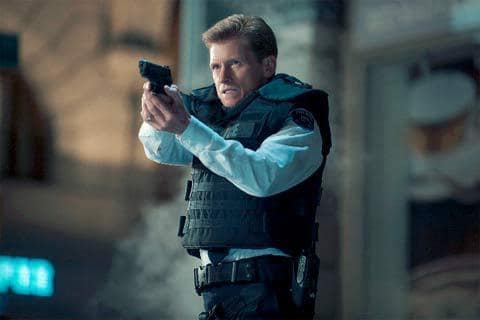 Movie Fanatic:
Hopefully this changes things.
Denis Leary:
I hope so. When I was doing it, I thought, "This is how these things ought to be made."
Movie Fanatic:
What does it mean to you as an actor to be part of this Spider-Man lexicon for the rest of your life?
Denis Leary [SPOILER!]:
It means we have to re-cut it so I can live -- because I get (expletive) in the sequels. No, seriously, ultimately in the beginning I just wanted to meet Rhys, because I really like his work. I liked Marc and wanted to get into his wheelhouse. I think if the movie works, it means he will be making a lot of movies. I would like to work with him again because I really had a blast. I'm at that age where I have to have fun while I'm doing it. Marc's good, man. He's all about the right things.
Movie Fanatic:
Andrew is the perfect choice for Spider-Man as we've seen in so many
The Amazing Spider-Man clips
. What did you take away working with this up-and-comer?
Denis Leary:
I don't know, man. He's like way beyond me! I had to learn how to be a film actor while I was doing it, which I'm sure was the same for him. It takes a while to learn the tricks of it. This guy, how many movies into his career is he? Like four? He's playing Spider-Man and Peter Parker really well, in my opinion. He's a character actor. He's not a vanity leading man. Then, I saw him do
Death of a Salesman
on Broadway. He's the real deal. He may be a movie star after this, but the work he did in
Social Network
was no (expletive). He was putting it on screen.
Movie Fanatic: Back in the beginning, how on earth did you get on MTV from Emerson College in Boston?

Denis Leary: It saved my life. I'd be driving a truck. I'd be a teamster, my brother's a teamster -- there's nothing wrong with being a teamster. But, I had literally no other skills, except for hockey. That was it. I learned everything at Emerson, man. We had a theater group there where you had to do everything from the writing, staging, to our own lighting and design work. It was a great training ground. One of my classmates became one of the heads of MTV, which led to Remote Control, which was all Emerson guys from Boston.

Movie Fanatic: Where did those crazy MTV shorts come from?

Denis Leary: The MTV spots came out of when Ted (Demme) was a production assistant at Remote Control. Then he created Yo! MTV Raps and from that he got the creative power to do my MTV spots which led to the stand-up No Cure for Cancer. It all goes back to Emerson!