When Anne Hathaway first met The Dark Knight Rises director Christopher Nolan, she immediately got a sense of the first thing he wanted her to do.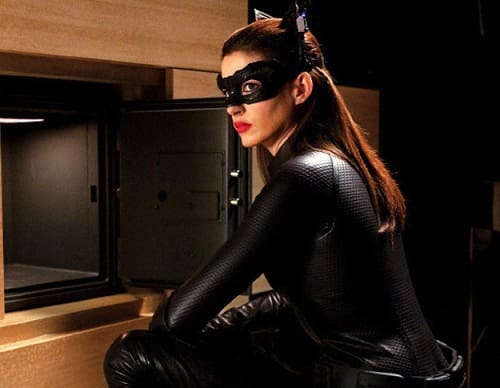 "When I got the part, Chris had called me into his office and said, 'Okay, so, there's going to be a lot of fighting, and when we did
Inception
, Joseph (Gordon-Levitt) got in really good shape. Joe went to the gym for months so that way when we did his fight sequences, he did all of his own fighting. I really liked that,'" Hathaway recalled.
"I went, 'Gotcha. I am reading between the lines here.' I just went to the gym and came back when we wrapped. It was a complete transformation. I'd never done anything like that, because it wasn't just about looking a certain way, I had to learn to fight. I had to become strong enough to be able to fight for many days at a time."
Hathaway admitted that getting into shape for any role is honestly par for the course, especially for
The Dark Knight Rises'
Catwoman
.
"That was actually something that I felt very lucky about because I feel like in a situation like this -- I don't know what other actresses have gone through -- but I feel like there's a mandate that comes to you and a deal with how you have to look," she said.
"The way I was treated on this movie was learn how to do what you need to do and then however you look that's the way the character looks. I just felt, as a woman, very protected in that way."
But, then there was the added pressure -- Gordon-Levitt in
Inception
, and Christian Bale in
The Dark Knight Rises
, did not have to perform the action sequences in four-inch heels. Not that she's complaining.
"You just do. It's part of being a woman. You just figure it out," Hathaway said and laughed. "
Devil Wears Prada
was really good training for that though. I've kind of run up and down Manhattan so I just ran up and down Gotham!"
When it came to tackling an iconic part, played so magnificently by Michelle Pfeiffer two decades ago, Hathaway was not nervous. In fact, she was ready for anything for Nolan.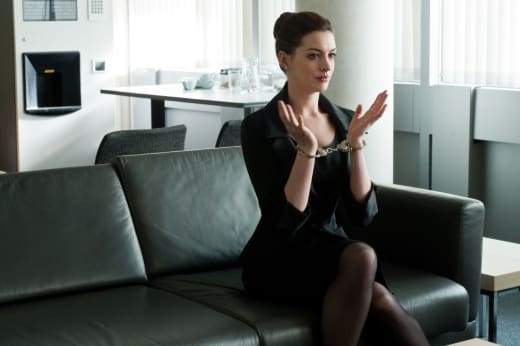 "I would have played a footstool in this movie, but it was pretty cool to get to play such a wonderful character," Hathaway said.
It also helped that, as we state in our
The Dark Knight Rises review
, the film follows Catwoman's alter ego, Selina Kyle, more than the feline-inspired character. "I loved that the focus was who she was as Selina -- and that there wasn't a schism within her, that she didn't change when she put on the suit. It was kind of her uniform which she had to wear for her job."