Only a filmmaker with Christopher Nolan's majesty can pull off a two-hour and 45-minute finale and have us still wanting more as The Dark Knight Rises' credits roll.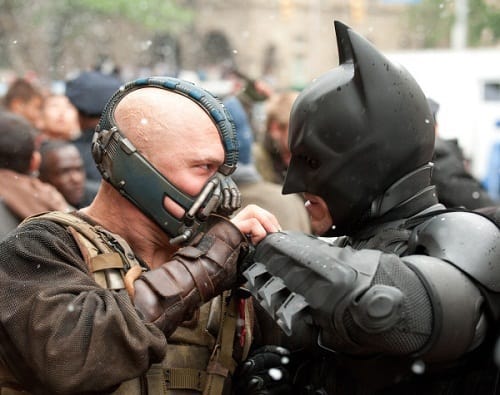 The Dark Knight Rises
picks up eight years after
The Dark Knight
and finds our caped crusader in hiding after taking the fall for the death of Harvey Dent. Batman may be in hiding but Bruce Wayne lives and breathes, and Gotham knows its richest resident has simply become a Howard Hughes-type hermit.
Nolan's final Batman film is terribly timely as well. The scenes in the Gotham Stock Exchange where Bane brings his badness feel ripped from real headlines. The beauty of Nolan's trilogy is its commentary on our society. The entire series has ripple effects of emotional resonance from how 9/11 changed us forever to the financial crisis and its aftermath.

Christian Bale, who should share equal credit with Nolan for reviving the franchise, has his biggest challenge yet acting-wise in The Dark Knight Rises. As anyone familiar with the story of how Batman battles Bane knows, the man has literally had his back broken and must find his way back to Gotham and to his rightful place extolling justice.

Our Dark Knight Rises movie review finds its most welcome surprise in how stellar Anne Hathaway is as Selena Kyle. Hathaway gives us a performance that is unlike any in her career. She is cunning, coy and all captivating. Yes, for all intents and purposes she is Dark Knight Rises' Catwoman, but she is never called that in the film. We first meet her as she is stealing a set of pearls that belonged to Bruce Wayne's mother… right in front of him. Needless to say, Bale's Bruce is intrigued.

Marion Cotillard and Joseph Gordon-Levitt are equally as sensational in their Batman debuts. But, one of the most powerful performances of the entire film comes from the most unlikely of places -- Alfred. Michael Caine has several monologues that drive Bruce/Batman and thus, our story. Also, his soliloquy near the end of the film is pure heartbreak.

Let's make one thing clear: The Dark Knight Rises is no The Dark Knight. Legions were motivated to check out the superhero story because of the wildly buzzed about performance of Heath Ledger as the Joker. It was also an epic tale that captivated the world. Tom Hardy's Bane is far less of a psychological menace and more of a physically, brutish evil that brings Gotham to its knees.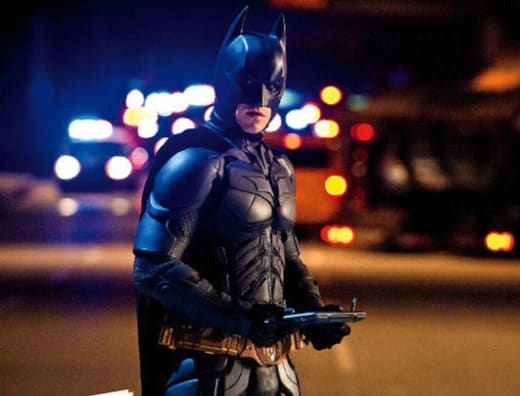 Where
TDK
had a villain in Ledger that earned Oscar gold, they have an actor in Hardy who commands every scene he is in, but to compare him to the lightning-in-a-bottle moment that was Ledger's Joker is completely unfair. If anything, in
The Dark Knight Rises Bane
is equally as cunning, but possesses ten times the tenacity for physical violence that our ghostly made-up jokester had.
Nolan wields his camera with such precision he could make any story compelling. The fact that this tale carries the weight it does, makes it all the more astounding. Although
The Dark Knight Rises
is not as powerful as its predecessor, it is still one riveting ride.
What we have in Nolan's trilogy is a gift. It is a rare thing indeed that a filmmaker with such vision became merged with a superhero franchise badly in need of a breath of fresh air. What Nolan gave Batman and fans globally is gale force winds of brilliance and his
The Dark Knight Rises
is merely the icing on an already astonishingly delicious cake.