There's a new banner for The Expendables 2 and for a small fee, you can buy the banner add-ons that show the other 80 to 90 action stars in the cast. It's a big cast is what I'm saying.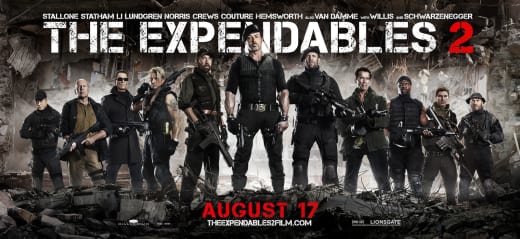 The action sequel stars Sylvester Stallone, Jason Statham, Jet Li, Dolph Lundgren, Chuck Norris, Terry Crews, Randy Couture, Liam Hemsworth (The Hunger Games), Jean-Claude Van Damme, Bruce Willis (Moonrise Kingdom), and Arnold Schwarzenegger. I'm out of breath, and I was just typing.
The film sees the gang reunite to seek revenge on a dead member and put a stop to a rival mercenary. Simon West (Con Air) directs.
Catch Expendables 2 in theaters August 17. For more, check out The Expendables 2 trailer.