After wowing the Hall H crowd with 12 minutes of The Hobbit footage and Peter Jackson making news, the director and Martin Freeman (Bilbo) sat down for an interview to talk the finer points of their prequel to The Lord of the Rings.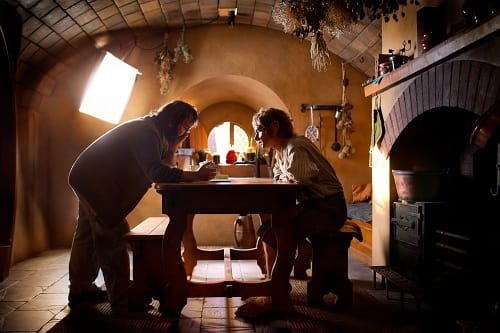 Movie Fanatic:
First off, Martin, this is your first trip to Comic-Con. What are your thoughts?
Martin Freeman:
Well, I've never been to Comic-Con before and it was lovely to have that. It's fulfilling my expectations about what I've heard about Comic-Con and exceeding them as well.
Movie Fanatic:
How about that response to the footage in Hall H?
Martin Freeman:
I was struck by just how emotional people were about the film, about anticipating the film. You know with each question there came a kind of preamble of what the previous films have meant in people's lives. So, all clichés aside, it's a really nice thing to be a part of something that actually touches people -- genuinely touches people. It's quite a lovely thing.
Movie Fanatic:
Martin, you've done other literal applications before, like
Hitchhiker's Guide to the Galaxy
. How can you compare the experiences?
Martin Freeman:
It's even more green-screened this time. They are different apart from the fact that they have a fantastical element to them. They're literally different worlds. This
Hobbit
experience is genuinely unlike anything that I've ever done and unlike anything I'm likely to do again -- just the breadth of scale and time, being in a completely different hemisphere than I'm used to. It's like a huge chunk of your life. So that alone makes it different from anything else. The budget makes it different. You're constantly walking onto sets where what you're walking on and acting on would have taken up the entire budget of any other film I've done. So, just the scale of it is quite phenomenal.
Movie Fanatic:
Peter, were there technical advances that came along since the trilogy that enhanced your ability to film
The Hobbit
?
Peter Jackson:
The technology that advanced the most is really the fact that we did a lot of miniature shooting on
Lord of the Rings
. All the structures of Middle-Earth were really miniatures. They were quite large. But you're limited to what you can do with them. Now, all miniatures are done with CG. And now you can do things like sweep over doorways, and all these things you could have never dreamed of doing before. That's actually one of the most profound differences.
Movie Fanatic:
Peter, how does
The Hobbit show Gollum
with the advanced technology and the fact that he's 70 years younger?
Peter Jackson:
We wanted consistency with how Gollum looked throughout the films, but since
Avatar
, there has been built a very sophisticated motion control system for motion capture -- specifically around the facial system -- which Gollum inherited. His facial gestures will be more pure.
Movie Fanatic: Martin, do you see Bilbo as the eyes and ears of the audience in The Hobbit?

Martin Freeman: That's a good question. He does serve as being the audience's way in. He is the reluctant hero who ends up being a hero by accident. They are archetypal people who stay home usually. 

Movie Fanatic: Was it awkward filming knowing that you were much smaller than everyone else, especially the massive Gandalf?

Martin Freeman: We got pretty used to looking two feet above Ian's eye. But, among all of us, we are just the heights we are. So it doesn't really occur to us very often.

Movie Fanatic: Was it always that easy, or was there ever an initial moment where you wondered how this would work?

Martin Freeman: Actually, the first time we ever shot a scene with Gandalf, he was in a completely different room. I thought, "This is ridiculous. Who are these people? Why are they making me do this?" And then I saw it and went, "Wow, this is actually brilliant." We rehearsed it and rehearsed it until it became normal. So your whole frame of reference of how you work in a film shifts. It becomes rather easy actually.