As a filmmaker, Rob Reiner has always gotten a clear message through in his films, even as audiences laugh or cry. In The Bucket List and now with The Magic of Belle Isle, both starring Morgan Freeman, the power of life lived to its fullest seems to be the permeating theme. As you'll see in my movie review below, it worked extremely well in the former and is charming in the latter.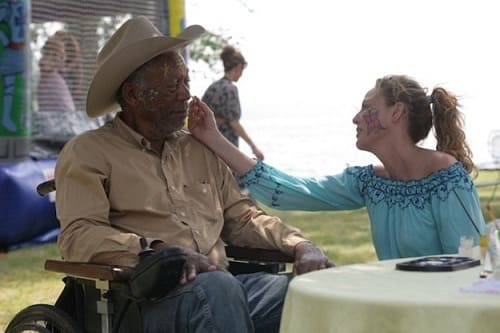 As
The Magic of Belle Isle
begins, Freeman is being brought to a small Northeastern island town by his nephew (Kenan Thompson) to spend the summer hopefully putting pen to paper once again. Freeman's Monte Wildhorn is a Western novelist who has not had a successful book in decades. He is a functioning alcoholic and more than a little bit prickly.
The audience gets a keen idea of his character when we learn that as part of the deal of him staying in this house for the summer, Freeman must look after the man's dog Ringo. Mr. Wildhorn doesn't believe naming a dog after a mop-top drummer is appropriate and immediately changes his name to something more canine friendly: Spot.
Virginia Madsen's Mrs. O'Neil lives across the street with her three daughters. She is a single mom and her first interaction with Monte is less than savory. Yes, you can immediately tell where this tale is going as she and Monte will strike up an unlikely friendship and perhaps an even less likely romance.
The plot is overly predictable. Yet, Reiner still handles it with the grace we've become accustomed to by the legendary filmmaker who gave us
The Princess Bride
and
When Harry Met Sally
. The budding relationship is nicely played out onscreen and that is largely due to the chemistry and talents of its leads. As told to us by the stars in our
Freeman and Madsen exclusive video interview
, and we agree, these two clearly enjoyed working together due to their keen chemistry.
The life lessons of
The Magic of Belle Isle
don't strike the same power as Reiner achieved in
The Bucket List
. But, this is a slightly different movie. Where the filmmaker's first movie with Freeman was about a friendship between two men, this film is about the power of love, whatever form that takes. It doesn't strike the same emotional power, but it comes close.
Freeman, as always, is astounding. The actor's performance alone is worth the price of admission. Toss in the fact that he has a leading lady in Madsen that is up for matching his performance note-for-note, and
The Magic of Belle Isle
is a solid, albeit light piece of movie making. The locale is also brilliant, and after viewing the film, one may be inclined to find this magical place. It's hard to pinpoint where exactly this natural beauty is in real life. But, that is the magic of it all. Your happiness in nature can be found almost anywhere good friends and good souls inhabit.