As so evident in
The Watch trailer
, Ben Stiller's Evan in
The Watch
takes his job very seriously. When the night security guard at the Costco where he is manager is slain, Evan is motivated to form a neighborhood watch to protect his small Ohio suburb. What he could never have foreseen was the alien invasion that that murder announced.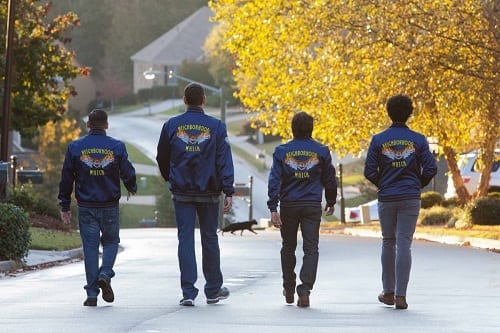 Along for the ride is Jonah Hill's Franklin, Vince Vaughn's Bob and Richard Ayoade's Jamarcus. It quickly becomes abundantly clear that three-fourths of this quartet of amateur security have motives for joining
The Watch
beyond public safety.
Hill portrays a twenty-something man with dreams of a law enforcement career who still lives with his mother. Vaughn is a married father of a teenage girl who is branching out and he doesn't like it. The neighborhood watch is an excuse to get away from his home life and drink a few beers with "the guys." And Ayoade is a Brit sorely in need of company. He's down for anything!
What works the most is the comic chemistry between the leads of
The Watch cast
. It is close to being the best comic cast ever. Witnessing them in action is a pure delight. Each flexes their comic muscles in a manner that is selfless in its effort to deliver what is funniest to audiences. Not only do Vaughn and Stiller have a ridiculous rapport, but watching their humorous volley in roles we're used to seeing them in, is truthfully enjoyable.
Seeing them switch parts might have been interesting. Imagining Vaughn as the straight man who yells a lot and Stiller portraying the neighbor who just doesn't seem to get how serious this local murder is has major potential. Then again, that is what they did in
Dodgeball
, and why should two wildly creative people stick to the same formula? There's nothing humorously edgy about that.
But, the safe route in terms of characterizations works for
The Watch
because the whole alien invasion aspect of the story demands it. Vaughn's over-protective father, Ayoade's happy-to-be-invited-to-the-group guy and Hill's militant wanna-be vigilante, coupled with Stiller's in-control man in an out-of-control situation is casting genius. There is no question their humor pops.  
Slightly off the mark, unfortunately, is how the film strays a bit during its second act closing. There is the predicable falling out between our four friends that feels a bit forced and unbelievable.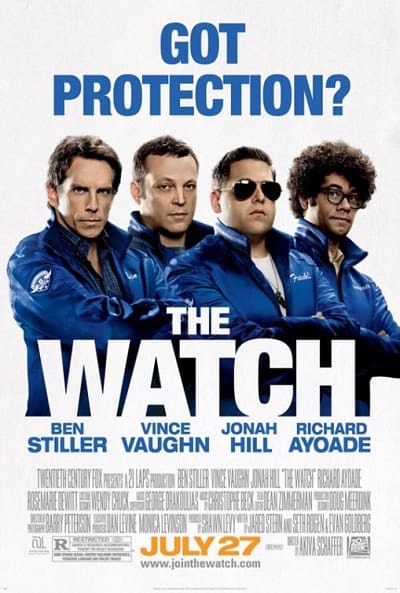 But, in the end, this is a thrilling and comedic joy to witness as a whole. The fab four have a delightful time, and so does the audience. Their comic camaraderie is stellar and sanctimoniously silly in light of the alien invasion that is thrust upon them.