The Words is an upcoming thriller starring Bradley Cooper and a bunch of words. At least, that's what this new motion poster portends (mouse over the image to get the full motion poster-y experience):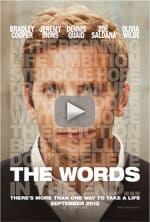 Cooper plays Rory Jansen, an author coming off a huge success. Jansen makes a fatal mistake, however, when he steals another man's work. Now he must face the consequences.
Olivia Wilde, Jeremy Irons, Dennis Quaid, and Zoe Saldana (who is currently working on the Star Trek sequel) also star. The film was written and directed by Brian Klugman.
The words is set to be released September 7, 2012. For a closer look at the film, check out The Words trailer.