The stars of Total Recall and their director, Len Wiseman, landed at Comic-Con and talked to us about their remake of the Arnold Schwarzenegger 1990 classic.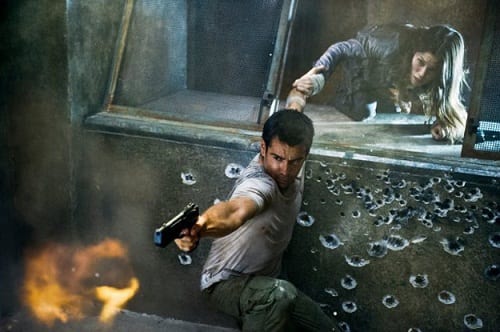 Wiseman promised a different world, but one that still pays tribute to the original. "Part of the originality from the script, those characters were in there. Things are definitely drawn from the films as well as the short stories. I was just really intrigued by the way that the characters were dealt with in this one," Wiseman said.
"They were familiar characters but done in a different context. The short answer was that the characters were alive in the first draft that was presented to me."
Wiseman's use of larger-than-life sets allowed the cast to further wrap their heads around this futuristic world. "He likes to do as much as he can practically. That's building sets that feel like they're real," Kate Beckinsale said.
"We've got these incredible sets, hover cars that feel dangerous and scary that we're in. All of that stuff really helped me. It felt terrifying, like it was real."
Colin Farrell felt that the reality-grounded nature of the shoot allowed the world we've seen in the
Total Recall trailer
to feel less like they were making a blockbuster. "There's a whole canvas of extraordinary toys and effects and huge concepts that are involved in telling the story. But as an actor you just kind of approach it. You treat it the same as an independent film. It's just a little more physical," Farrell said.
Jessica Biel concurred with Farrell's sentiment and for her, it also added to allowing an emotional connection to be developed with their audience.
"It's also emotionally appealing because it felt like yes, this is a world that's in the future and we don't have some of the technology we have now. But emotionally it's so appealing because it felt like yes, this is a world that is in the future," Biel said.
"We don't have some of the technology we have, but emotionally... it was just a human experience. It's extremely relatable and it's just really grounded."
Beckinsale adored teaming up with her director husband again on
Total Recall
, but was pleasantly surprised that the part he wanted her for was the wife of Farrell, who turns into a complete villain.
"Len and I aren't really talking a lot after he said, 'There's this part of playing the bitch. I was thinking of putting you in it,'" Beckinsale said and laughed.
"I think as the lead you have to be part of exposition. But, as a villain you get to be a character that messes everybody up. Your motives are your own. It is fun to open up that dark side."
When it came to the original, Wiseman admits it was just a blueprint, and this futuristic trip will be a completely different ride. 
"There were things in the original script that are different -- like they aren't going to Mars. So that was a big departure already. There were things being brought into the script from the original that I wanted to see in this version of it. I actually made a list and I just wanted to write down the things that stayed with me over the years," Wiseman said.
"I put that together and then I watched the original again, making sure some of those things that stuck with me for awhile make their way into the film. Some things are more apparent, but some of the things are so buried in there. I'm very curious to see if some of the hardcore fans will be able to see what those are. I'm excited to see if they're able to pick up on them."
Ever the joker, Beckinsale interjects… utterly stunned.
"There's another movie called
Total Recall
?" Beckinsale said and laughed. "You're (expletive) kidding me!"