Breaking Dawn Part 2 Images Released: Kristen Stewart & Robert Pattinson are Still Together in Makebelieve!
by Micah J Gordon at . Comments
As someone who doesn't really care a lick about the personal lives of celebrities, it's still frankly a little bit awky-sauce looking at these photos of Kristen Stewart and Robert Pattinson hugging it out (that's how they made Renesmee right?) for Breaking Dawn Part 2.
Check out the splintered couple on the cover of Entertainment Weekly, along with a slew of other images from the issue (click thumbnails to enlarge):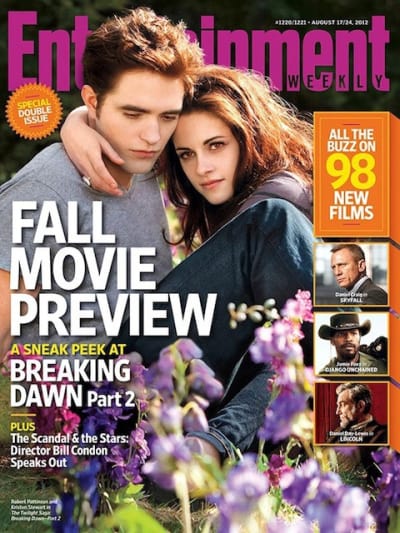 Stewart and Pattinson once again star as Bella and Edward in the final installment of the Twilight series. Now, Bella's a vampire and the couple have a young daughter, Renesmee, played by Mackenzie Foy.
Taylor Lautner, Peter Facinelli, Kellan Lutz, Nikki Reed, and Dakota Fanning also star.
Breaking Dawn Part 2 is directed by Bill Condon and hits theaters November 16. Check out our account of the Breaking Dawn Part 2 first 7 minutes that aired at Comic-Con for a preview of the action.