Mackenzie Foy and Kristen Stewart star in a new photo from The Twilight Saga: Breaking Dawn Part 2, courtesy of Entertainment Weekly. Check it out: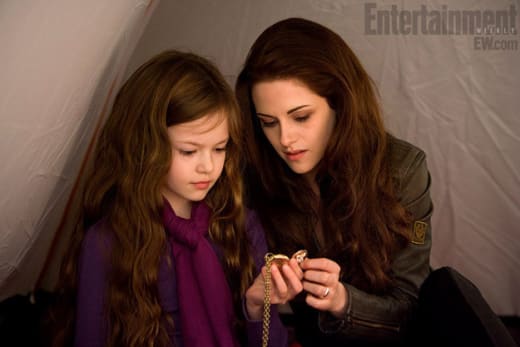 The plot of the final installment focuses on Renesemee, played by Foy, who is the new vampire daughter of Bella and Edward (Kristen Stewart and Robert Pattinson). When Renesmee is misidentified as an "immortal child," the Cullens solicit the help of other vampire clans to prove her true identity.
Taylor Lautner, Peter Facinelli, Kellan Lutz, Nikki Reed, and Dakota Fanning also star.
Breaking Dawn Part 2 hits theaters November 16. Browse through our Breaking Dawn Part 2 posters for a look at all the characters.