Romantic comedy fans… Celeste and Jesse Forever is a revelation. The film, from writers Rashida Jones and Will McCormack, is unlike any rom-com seen of late. For a genre in desperate need of a shot in the creative arm, their film is a welcome arrival.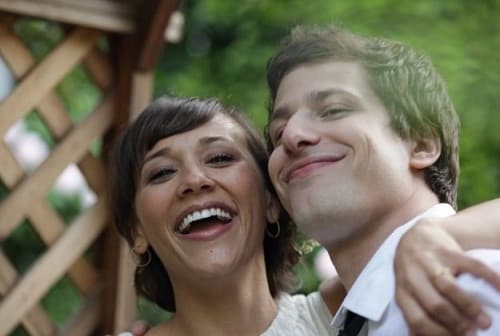 Jones stars as Celeste while Andy Samberg is Jesse, and the two make movie magic together as a couple who met in high school, married after college and have come to believe that they are better off as friends than as a romantic duo.
How exactly does that work? And thus we have the modus operandi, hinted at so effectively in the
Celeste and Jesse Forever movie poster
. The film is a romantic comedy where the romance happened before the first scenes are shown.
Celeste and Jesse's friends think it's weird that the former couple are such best friends. And as an audience member, initially, it appears they are right. But, as the film unfolds, you see that there is a level of caring between these two people that transcends romantic love. Soon though, there are challenges that threaten Jesse and Celeste's friendly staying power.
Jones and Samberg are a perfect pair. Not only do they effectively navigate the relationship landmines set up by the film's premise with precision, but they possess a priceless chemistry.
Samberg shows, in one of his first post-
Saturday Night Live
roles, how truly talented he is as an actor. Sure, he's funny in
Celeste and Jesse Forever
, but his dramatic chops are what are truly on display here. The actor runs the gamut through a myriad of emotions that fill his Jesse with color and nuance.
Proving she's a multi-talented force, Jones delivers her usual pitch-perfect performance, but her co-screenwriting skills are what truly impress.
Our review would not be complete without highlighting that McCormack and the
Parks and Recreation
star have weaved a web that is rare in romantic comedies of late. They manage to craft a story that keeps audiences wondering: Where is this going? How will the story conclude? With great joy, we can report that it remains a mystery until the film's final moments. Can you imagine a rom-com where the ending wasn't advertised? Kudos to the screenwriters for having a trait that is sorely lacking in Hollywood lately: Originality.