The third in the Diary of a Wimpy Kid series has an apt name, we will give it that. Diary of a Wimpy Kid: Dog Days finds our book series' hero Greg (Zachary Gordon) finishing middle school and readying for a summer of sitting inside playing video games.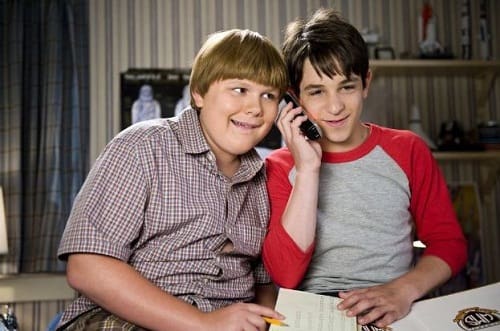 Unfortunately his father (Steve Zahn) has other ideas. Summer is the opportune time for father-son bonding.
Dog Days
is slightly more true to the book series than last year's incarnation,
Rodrick Rules
. The latest film is based on the third and fourth book in the
Jeff Kinney
series and is the first to be released in the summer. The first two were modest successes with March releases. How will it do in the… well, dog days of summer?
With a lack of family film fare out there, the film should do quite well. It is squarely geared at the family audience, and kids will adore it while parents won't mind it. The feel of the book series is maintained, as seen by the cartoon's dominance of the
Diary of a Wimpy Kid: Dog Days poster
.
Gordon has grown up as an actor and it shows as his smart-alecky self is tempered in the third installment in the
Wimpy Kid
franchise. We adore Zahn, particularly opposite Christian Bale in
Rescue Dawn
, but as the rest of the cast seems to have grown up, his character is not as fully drawn.
This film feels less like a sitcom than the previous two and that is a very good thing. The thing about family films is one -- as an adult -- can enter the theater with the lowest of expectations and be pleasantly surprised. That is certainly the case with
Diary of a Wimpy Kid: Dog Days
.
Whereas the latest
Wimpy Kid
film is nice in its showing the doldrums that can be summer vacation when expectations don't meet reality, the snap that was present in the dialogue in the first two films is missing here. New writers were brought on board, and perhaps that would explain the difference. Or, it could be that our latest film in the series is based on two books and the story feels scant because filmmakers were trying to take on too much.
Either way, our review of
Diary of a Wimpy Kid: Dog Days
is mixed. In some ways it improves the series, and in other ways,
Dog Days
is weaker.
But, let's be clear on one thing: Kids who adore the
Wimpy Kid
series, will adore it.