There's something for everyone in this week's Blu-ray releases. Like action? Yep, we have that. Romantic comedy? Sure, that too. Children's animation? Yuh-huh. Drama? Nope, no drama. Totally kidding, of course there's drama!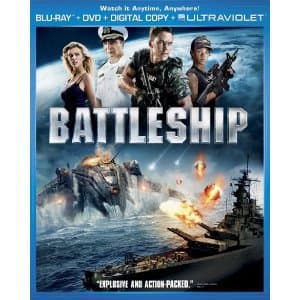 Battleship: Taylor Kitsch, Liam Neeson (Taken), and Rihana star in this sci-fi action film based on the popular board game. In it, a naval coalition is the Earth's last chance against an alien onslaught.
Think Like a Man: A group of friends have their love lives shaken up when their girlfriends all read a dating advice book. Kevin Hart, Michael Ealy, and Regina Hall star in this romantic comedy.
The Lucky One: Zac Efron and Taylor Schilling in this adaptation of the Nicholas Sparks novel. A Marine who used a picture he found of an unknown woman to help him get through the war sets out to find her upon his return.
The Pirates! Band of Misfits: This animated children's movie stars Hugh Grant as the voice of Pirate Captain, who sets out to win the title of Pirate of the Year. Martin Freeman (The Hobbit), Jeremy Piven, and Selma Hayek also star.