Screenwriters Lauren Anne Miller and Katie Anne Naylon borrow from a female-friendly genre for their girlfriend-centered For a Good Time, Call. They have taken the structure of a romantic comedy and applied it to a film about two female friends.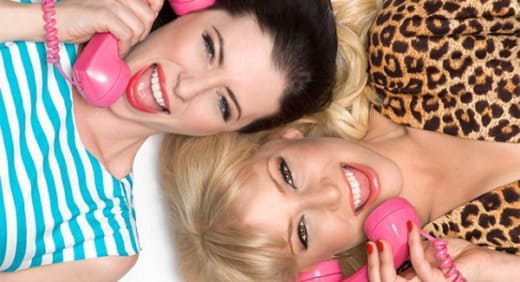 Why not? When romantic comedies work, they are efficient means of telling a story.
In
For a Good Time, Call
, all the elements of the genre that gave us timeless
When Harry Met Sally quotes
, for example, introduce their two leads in the same manner. They bond over something unexpected. They have conflict that drives them apart and then they find a way to get back together and profess love -- albeit platonic -- for one another.
In Miller and Naylon's film, directed by Jamie Travis, our two main characters are college enemies that because of economic happenstance, are forced to become roommates 10 years after graduation in New York City. Miller is Lauren, a talented professional in the making. Only thing, our current economic climate is making it difficult for her to get a job.
Ari Graynor
is Katie. She is not having trouble finding a job. Simply, Katie cannot find one that pays well enough, so she has several part-time jobs. One of which, Lauren discovers, is working as a phone sex operator. The two bond when the stuffy Lauren feels she has no choice but to put her brains to work with Katie's vocal talents and create a phone sex business of their own.
Thus, we have the bonding portion of our romantic comedy. We won't spoil the conflict or the resolution elements, but what is so special about
For a Good Time, Call
is that it utilizes those rom-com means of storytelling and ropes its audience into caring for these two to achieve best friendship by the closing credits.
The supporting cast is led by Justin Long, brilliant in this
For a Good Time, Call clip
. He portrays a gay best friend to the two and is surprisingly effective. Lauren's parents are little used, but still refreshing to see Mimi Rogers and Don McManus -- especially when they drop by at the most inopportune times. And Nia Vardalos is sharp as a knife as Katie's potential "professional career" boss.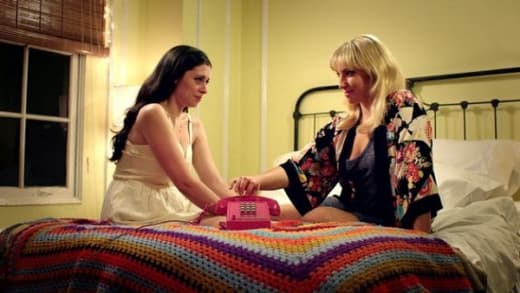 The film reminds us of those 1980s movies that starred Bette Midler and Lily Tomlin. Which is a good thing, but like those flicks, they don't have the greatest staying power. Our For a Good Time, Call review found the film solid, fun, original… but lacking anything that will plant it in audiences' heads for years to come.