Handling therapy as a plot-moving device can be a real challenge on film. Not so with Hope Springs, as Tommy Lee Jones and Meryl Streep -- along with their onscreen therapist Steve Carell -- manage to bring brilliance to the effort and make the film a pure joy.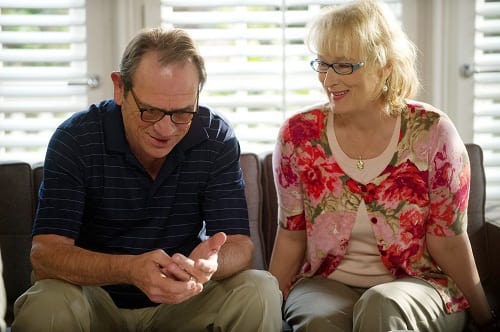 Two of the best actors of our time, Streep and Jones, portray Kay and Arnold. The couple have been married for decades and Kay's dissatisfaction can no longer be ignored. They are on autopilot and although she cannot imagine life without Arnold, Kay believes she's close to not being able to continue.
Visiting a bookstore, she finds a self-help book by Carell's Dr. Feld. It speaks to her. Upon further research, she learns that the good doctor offers an intense retreat for couples seeking to save their marriage. Faced with the possibility of losing the woman he has come to depend on, Arnold reluctantly agrees to go on the retreat.
This is when
Hope Springs
truly takes off and becomes a marvel of drama
and
comedy.
Carell is magnificent as the architect of Jones and Streep's road to marriage recovery.
The Office
veteran is still funny, yet it's a performance from him unlike any we've seen. He lets the comedy come to him and rightfully so.
As adept as Jones and Streep are at drama with their Oscar pedigree to prove it, the duo also possess killer comic chops. Carell clearly knows this and his scenes with the couple show that he can play third rung in the comedy ladder and still hit it out of the park.
Then there are the two leads. Streep brings out layers to the normally taciturn actor that we haven't seen before in Jones. The pair put on an acting clinic that is not to be missed. Amongst the explosions and superhero takeover of summer, the biggest eruptions onscreen this hotter season have to be the fire-cracking chemistry of Streep and Jones in
Hope Springs
.
Director David Frankel (
The Devil Wears Prada
) weaves a web from Vanessa Taylor's script that is pitch perfect. The helmer clearly has a winning working relationship with
Streep
, but the performance he elicits from Jones is one of his most surprising and resonant.
The film clocks in at just over two hours, and amazingly, it does not feel it. In the hands of the filmmakers, the stars, and right on down to the film's composers,
Hope Springs
is a summer film that should warm hearts throughout the seasons well into the future.