What if the entire film Jack Reacher was just a two-shot of Tom Cruise and Robert Duvall crouching in a ditch describing insane action sequences happening off camera. I would absolutely see that movie.
Unfortunately, it's most likely to be a legitimate film with characters and locations and plot lines, even though this new still image does get my hopes up a bit.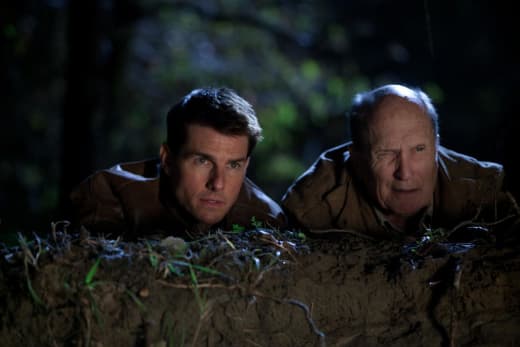 Cruise plays former Military Police officer Jack Reacher. When a sniper accused of murdering five random victims insists he's innocent and requests Reacher be put on the case, what once seemed like a simple investigation becomes much more complicated.
Richard Jenkins, David Oyelowo, and Rosamund Pike (Wrath of the Titans) also star.
Jack Reacher will hit theaters December 21. Watch the Jack Reacher trailer for a full preview.