I have to admit something deeply personal to you fine readers. I used to hate Joseph Gordon-Levitt. Well, hate's a strong word--more like "find overwhelmingly, cloyingly, insurmountably annoying."
But after leaving the cutesy trying-so-so-hard-to-be-charming rom-com realm for the action/thriller genre, I've totally come around on JGL. Homeboy's a solid actor. He was definitely one of the best elements of The Dark Knight Rises, and now I'm really excited to see him as a young Bruce Willis in Looper.
Check out a new Looper international "quad" poster that shows off a bit of Gordon-Levitt's aping skills: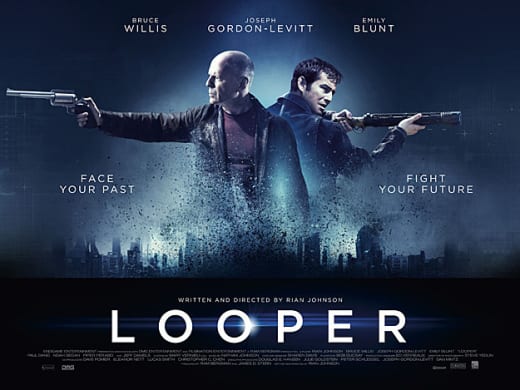 Paul Dano, Jeff Daniels, and Emily Blunt (The Five-Year Engagement) round out the cast. The Brothers Bloom director wrote and directed the film.
Looper will be the star of the Toronto International Film Festival, premiering on September 6. It will hit theaters September 28.