Right off the top of our ParaNorman review, it must be stated that this writer was not the biggest fan of stop motion animation. It was a worry that the format would blind us to the story's potential. What happened within five minutes of the film's opening is, simply, the power of the story had eclipsed the reality that we were witnessing the painstaking craft of filmmaking that involves moving clay figures millimeters at a time.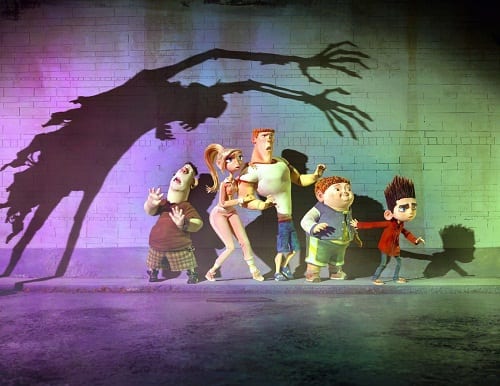 ParaNorman
sucks you in from its first moments and never lets go in its grasp. The story follows Norman, a child who feels that he is a little different than the rest of his New England town. He sees dead people. We first are introduced to that when he speaks to his grandmother at home while it is clear that no one else in the house can see her.
Norman's experiences at school are not much better than the alienation he feels at home from a father who wishes more from his only son. His older sister Courtney (Anna Kendrick) makes his life difficult and the school bully (Christopher Mintz-Plasse) never gives him a moment's peace.
The town is rumored to be the subject of a curse -- something to do with the puritanical village's elders condemning witches to death. When Norman realizes that the increased paranormal presence in his hometown is more than usual, he knows he is their only chance at survival.
The film is a vision of craftsmanship that is comfortable letting its artistry take a back seat to the power of the plot. Even if the film was a renaissance painting come to life, audiences would still need a story to engage the heart and mind. Even in its 
ParaNorman Olympic spots
, it's easy to see how well filmmakers have done with character building. The cast comes together to present a tale that is one to treasure whether it told by hand animation, computer generated or even live action.
Kodi Smit-McPhee voices the lead character and the young Australian actor gives Norman levels of nuances that are certainly a challenge with voice over. The supporting voice cast excels as well with Casey Affleck playing against type as the town jock, and Leslie Mann and Jeff Garlin nailing the roles of Norman and Courtney's parents. It was also amazing to hear Elaine Stritch's vocal talents as Norman's grandmother.
If the quality of
ParaNorman
is an indication of the state of stop motion as animation, the subgenre is producing its best work. The fact that Tim Burton's
Frankenweenie
is coming soon has this former under-appreciator of stop motion as eager as can be for the next great piece of animation artistry. At least until then, we can stare at those brilliant
Frankenweenie wallpapers
to satisfy our new-found craving for stop motion animated films.