There's a moment in The Bourne Legacy where co-screenwriter and director Tony Gilroy does something that is simply brilliant. He has someone in the third movie, starring Matt Damon in The Bourne Ultimatum, place a call to someone in his new fourth film in the series. The film, starring Jeremy Renner, manages to keep the entire universe of Bourne congruent.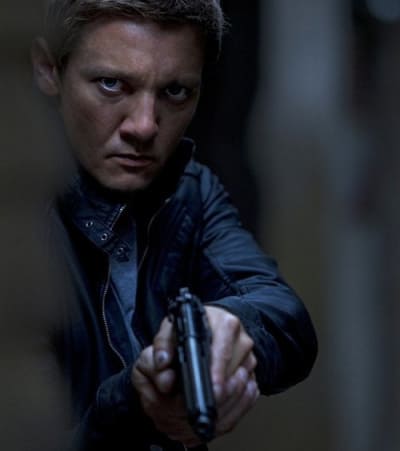 It is an incredibly smart plot move, but it represents so much more. That moment illustrates in merely seconds why millions have come to adore the
Bourne
series: It is wickedly smart and shrewd beyond what thrillers have been before.
In the latest installment, yes the franchise's history slightly overlaps. As seen in
The Bourne Legacy trailer
, Renner is a member of a unit that is as secret as the one that took Jason Bourne's memory and turned him into an efficient killer programmed to extol justice.
Bourne is ever present in the fourth film. Damon himself does not appear, but his presence is powerful. The character is talked about and mentioned across television news reports. By expanding the
Bourne
universe, an incredibly executed premise is allowed to grow into a full-blown pop culture phenomenon beyond what it already is.
Attending a recent screening of another film, the trailers rained on the audience and after the one for
The Bourne Legacy
ran, someone yelled, "Where's Matt Damon?"
That is exactly why it must be discussed in our
The Bourne Legacy
review: Renner has achieved a star-making turn.
From the film's opening Arctic moments where a shirtless Renner emerges from the water like a man on a mission, it is clear that this is a character that means business. He is extremely focused, immune to pain and its various forms, while possessing the fortitude and foresight to get out of every imaginable hopeless situation that arises.
Renner first grabbed our attention with his Academy Award-nominated performance in
The Hurt Locker
. He marveled in
The Avengers as Hawkeye
, but in
The Bourne Legacy
, alongside Rachel Weisz, Renner announces himself as a leading man to be reckoned with.
Weisz is a scientist who works at a lab facility where we learn Renner has been treated with "chems," performance- and mental-enhancing drugs where the subject is essentially as physically addicted as someone hooked on heroin. When their storylines collide, the actor emits an emotional level further than even Damon did.
Norton effortlessly joins the world as a mysterious government agent charged with containing the potential scandal that the revelation of Jason Bourne and his operational kin is unleashing. The press is hounding the government asking for answers and meanwhile, Renner's Aaron Cross is trying to not become a casualty of a spy house cleaning.
After penning the last several
Bourne
films, Gilroy steps up with a powerful script he co-wrote with his brother Dan. He also takes the reigns of the Robert Ludlum-originated franchise as director. Gilroy knows his material and could not have been a more qualified individual to take fans in a new direction.
What he does is nothing short of impressive. Without giving away a thing, the film's final act is essentially one long chase scene that is as impressive and sensational as any previous
Bourne
movie.