Sometimes when reviewing a film, qualifying it as the best of the series is not necessarily a ringing endorsement (The Twilight Saga: Eclipse for example). Is that the case with The Expendables 2?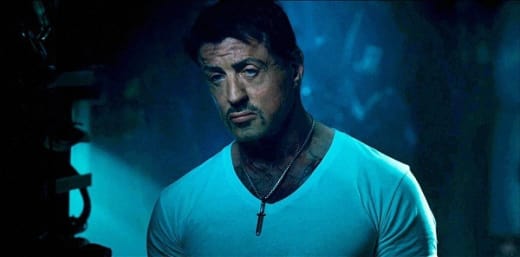 In 2010, Sylvester Stallone shocked the world by taking a slew of perceived-to-be washed-up action stars, putting them all in the same movie and collectively kicking some serious ass. The film was a bona fide box office smash.
Now he and his gang are back and Stallone has pumped up a few cameos from the first film into fully fleshed-out parts. Arnold Schwarzenegger and Bruce Willis join the fray as full-time "Expendables" and the film benefits from their increased roles. Also, the leader of the franchise has stepped aside as director and handed that mantle to Simon West.
West has picked up the pace a bit in the second outing and the action and body count are also amplified. Yes, it's clunky, the dialogue at times is painful, and we hate to say it... but Schwarzenegger is incredibly rusty as an actor. Then again, we don't expect Oscar bait from an
Expendables
movie.
The fact is that Hollywood does not make action movies as they did in these stars' heydays. That is why audiences enjoy
The Expendables
and because of that, those fans will wholeheartedly adore
The Expendables 2 characters
and their latest adventure. The film is fun and the chemistry between the aging action heroes is a blast, especially
Jason Statham
and Stallone.
Stallone and his boys are called back into action by Willis' character who surfaces after an explosive and thrilling opening sequence where the gang rescues a certain someone.
Our lead Expendable owes Willis' Church and they will be even after "one last mission." Sure the mere mentioning of that phrase is pure cliché... and why not utilize that plot device in a film that is triumphing 1980's action? It's perfect on so many levels.
There's a "package" that must not fall into the wrong hands. Unfortunately, right after securing it, Van Damme's baddie (interestingly only named Villain... see, this series does not take itself too seriously!) nabs it from our heroes and the excitement ensues. Van Damme has a ball as Villain. He actually gives a performance that is more subtle than stormy.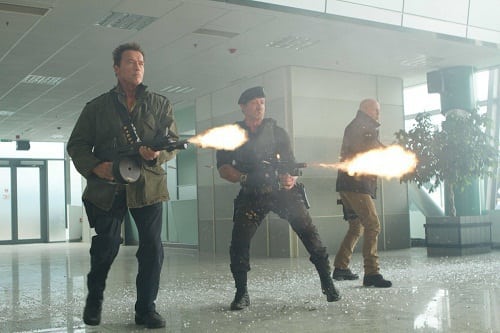 The gang each has their moment of action and for that West should be credited with keeping the spotlight even, despite so many stars that could have dominated scenes. There's even an image near the end (no exact details here!) where Stallone, Willis and Schwarzenegger are all in the same shot, firing machine guns with waves of glory. For fans of these stars' past efforts on screen, it is a moment that heads towards legendary.