Just a few days before their movie The Expendables 2 hits theaters, a set photo from the next Arnold Schwarzenegger/Sylvester Stallone film, The Tomb, has been released. And they look absolutely thrilled to be there.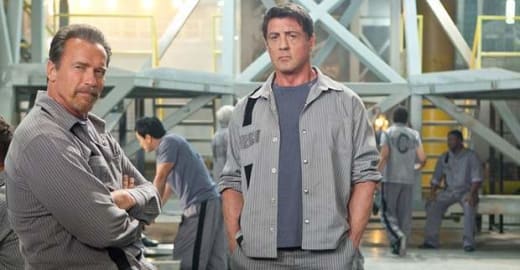 The film stars Stallone as an engineer who is wrongly convicted of a crime and sent into the prison he built. Once there, he plans an escape with the help of his cellmate, played by Schwarzenegger.
Jim Caviezel, Vinnie Jones, Amy Ryan, and Vincent D'Onofrio also star. Mikael Hafstrom directs.
The Tomb does not yet have a release date. While you wait, check out The Expendables 2 helicopter clip and watch Sly and Arnie in the film August 17.