For anyone who has gone to a ten-year high school reunion, it is undoubtedly the most awkward of experiences. It is also the most surreal of all the celebratory events to come our way after graduating from the institution that saw us literally growing from child to adult. Welcome to the landscape of 10 Years, a film that features one terrific cast exploring the universal theme of aging… sorry, I mean maturing while reflecting on who we once were.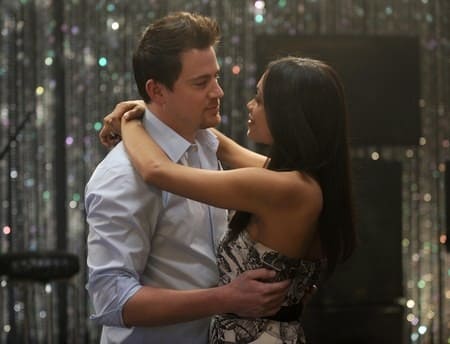 Channing Tatum and Jenna Dewan-Tatum play boyfriend-girlfriend, Jake and Jess, who have been dating for several years and are on the verge of engagement. Tatum is readying to head to his hometown to meet old friends and introduce his buddies to his love. But the buzz is all about what if Rosario Dawson's Mary shows up… boom! The high school sweetheart of the prom king is about to meet up with Tatum's Jake for the first time in a long while.
Theirs is not the only storyline in the film, as seen in the
10 Years trailer
. That is hardly a surprise given the nature of the premise. Yet, writer-director Jamie Linden introduces characters at a solid pace while giving them enough backstory and context to be an adequate spoke in the wheel of the movie.
Justin Long continues to surprise us. His Marty is a study in late twenties success masked in insecurity. After stealing scenes in
For a Good Time, Call
…
Long makes it two-for-two in terms of nailing supporting roles and their place in the cog.
One of the more compelling and jaw-dropping storylines involves a rock star returning home (Oscar Isaac) and his re-connection with a girl he barely knew back in the day. Kate Mara coyly plays her as the modern woman balancing the trapeze of life that is building a career and yet trying to find that certain someone that we can conceive of spending the rest of our lives with.
Their connection is a stroke of cinematic genius. At our
10 Years
review screening, the audience gasped. Seriously.
Chris Pratt and Ari Graynor are married with two kids. Graynor's Sam, also an alum, has allowed her guy to have one night of drinking amongst the hundred of sober nights he has spent raising a family.
What he does with his buzz is try to make up to every single person he bullied in high school. And there are a lot. Pratt shows his range with his work in the last year, from
10 Years
to his terrific turn on
Parks and Recreation
. And who could forget his game-winning luster in
Moneyball
?
10 Years
is a reunion that should firmly be replied to with an all-cap RSVP of yes!