A Long Way Down tells the story of four strangers who meet at the top of a London highrise on New Year's Eve, where they all plan to commit suicide. Together they decide to stay alive at least until Valentine's Day, forming a bond that could save them all.
The film is based on the novel by Nick Hornby, whose books are famously filmable. The movies that came from his books include High Fidelity, About a Boy, and the original British Fever Pitch (on which the American film was based).
Take a look at the first still from A Long Way Down: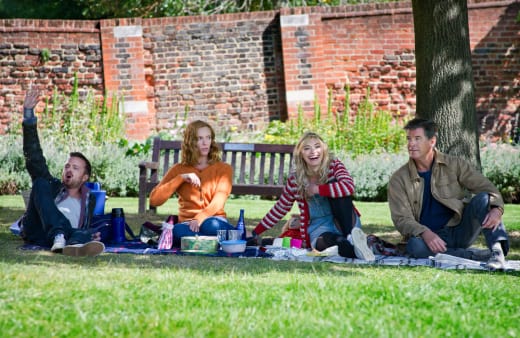 Aaron Paul (Breaking Bad, Smashed), Toni Collette, Imogen Poots (A Late Quartet), and Pierce Brosnan star as the unlikely foursome. Sam Neill and Rosamund Pike have also signed on.
Pascal Chaumeil directs the film, which is set to premiere late next year.