Here in Toronto at TIFF, the buzz is high on several films, especially The Master. We are sitting with one of the stars of that film, Amy Adams, in the Canadian city to talk about filmmaker Paul Thomas Anderson (Boogie Nights, Magnolia) and his impeccable vision. But, we can't let a sit-down with Adams occur without asking about her role as Lois Lane in one of 2013's most anticipated movies, Man of Steel. Here's a hint… she thinks star Henry Cavill is "yummy!"
Adams talks about the acting clinic put on by her co-stars, Philip Seymour Hoffman and Joaquin Phoenix, seen here in these
The Master stills
. Both are likely to be nominated for Oscars, and we would be remiss not to mention that Adams is likely to get one too for her portrayal of the "cult" leader's (Hoffman) wife. Also, the film has a bit of discussion around it and whether it is based on the birth of Scientology. Adams answers that rumor head-on.
The Master
is the story of an emotionally lost World War II veteran (Phoenix) who finds himself a stowaway on that magnanimous group leader's boat. As their group of passionate followers increases, Phoenix's character becomes more and more of an aide and ally to Hoffman… to the chagrin of Adams' doting wife.
Movie Fanatic:
What do you make of the L. Ron Hubbard-Scientology connections that people are seeing in the movie?
Amy Adams:
I guess that's for people to discover on their own. I didn't think about it a lot, nor was it something that I explored at great length when going into it. I always say, "See the film and then if that's something you're interested in, sort of finding the parallels, then you'll find the parallels." But I just see it as more of a character study. 
Movie Fanatic:
You've worked with both
Joaquin Phoenix
and Philip Seymour Hoffman before, what is it about those two that you return for more?
Amy Adams:
I think they're just very open, honest people and so it's hard for them to sit in a room and be looked at. It's hard for anybody. I'm fiercely loyal and protective and I will kick anyone's rear end who wants to say anything negative. I've worked with Joaquin twice now. I feel like I've started to see his humanity through his process and so I'm very loyal to him. I've worked with Philip several times.
Movie Fanatic:
What was your reaction that the great Paul Thomas Anderson wanted you to read his latest film's script?
Amy Adams:
First off, when I just saw that Paul Thomas Anderson is going to be sending you a script, I was like, "What just happened in my life?" That's where it started. Then I read the script and I was definitely interested in playing the character. It just grew from there. Just his name and then everything else kept coming.
Movie Fanatic:
Do you ever feel that sense of wonder while you're on set making a movie, just stepping back and watching Paul Thomas Anderson working?
Amy Adams:
It's surreal at times. I have to keep myself relatively grounded when I'm working or else I'll freak out. When we were filming the scene where I get up and leave at the end of the film, I didn't even know that Freddie (Phoenix) said what he said after I left. It's very funny. I would have kicked his butt. It was not on the page. But I would go out and then watch it on the monitor and I was humbled, again, but very humbled to be working with these two actors, with what they were offering.
Movie Fanatic:
Anderson's films, especially
The Master
, are quite serious. What surprised you most about the man?
Amy Adams:
How funny he was, how much we laughed on set [
laughs
]. I thought it was going to be a
very
serious experience. And although we definitely delved into serious subject matter in the scenes, the experience of working with him was a lot more fun than I expected.
Movie Fanatic:
One of the oddest scenes in the entire movie is when Hoffman is addressing a room full of people and Phoenix is seeing all of the women naked…
Amy Adams:
That was one of the weirdest and most surreal nights of my life because I was right at this level (
points to her head
).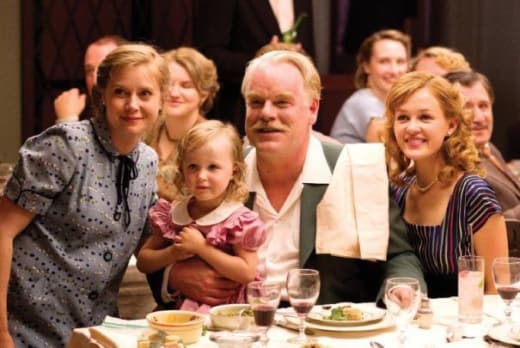 Movie Fanatic: Why was it surreal?

Amy Adams: Typically when we see women naked in our society, aside from in life, they're acting like they know they're naked. But here the idea is that we're all acting like we have clothes on. And so to see women of all ages and body types jumping around and dancing and very unselfconsciously presenting themselves, that was so surreal because you just don't see that. So that was part of it. It was just "We're naked," but everyone's acting like they have clothes on. It was very bizarre.

Movie Fanatic: Finally, can't let you go until we get your impression on working on the Superman reboot, Man of Steel!

Amy Adams: It was great! Henry (Cavill)... I hope you love him as Superman.

Movie Fanatic: What makes him a good Superman?

Amy Adams: He works so hard and he is just yummy and is really committed to the role and really did a good job. I haven't seen the final cut. I've only seen a couple of the teasers so I'm with you. I only know it because I was there, but there's so much that I wasn't involved in that I can't wait to see.

Movie Fanatic: How did you play your Lois Lane differently than what we've seen in the past?

Amy Adams: I see her as a pistol and she definitely gets herself in a lot of trouble still, but I would say that in our version she's not as competitive with Clark.