In Arbitrage, Richard Gere is Robert Miler, a troubled founder and CEO of a hedge fund company on the eve of the financial collapse of 2008. We meet him as he is returning on his private jet from a business meeting that was supposed to result in his company being bought. See, he desperately needs the influx of capital because he is in a bit of a bind.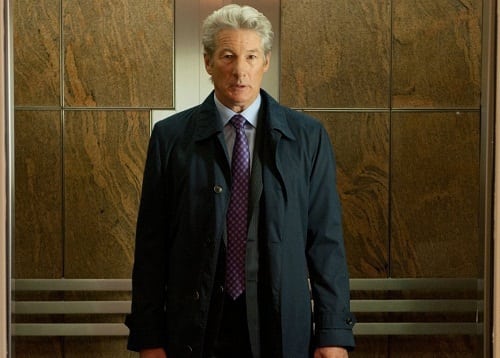 Like so many hedge fund managers in the days leading up to the economic meltdown, he made a bad bet and has moved cash around to cover the losses and hide it from investors.
Now, that little big lie is about to bury him.
We learn that he is a respected member of the New York City social community and his family adores him. His daughter and son both work for the firm and his wife (Susan Sarandon) is busy running numerous charities that benefit hundreds of thousands.
Miller's troubles, if they were only limited to his company's financial peril, would be enough to thrill in this film. But, the man with many faults is also having an affair with a struggling artist. She is demanding and never understands that he has both work and a family to attend to… thus the beginning of some serious conflict. That clash is resolved in the most unwillingly horrifying way that plunges Miller even closer to the cliff.
Nicholas Jarecki directs the film from his screenplay and has smartly crafted a thinking person's thriller that uses numbers and figures interwoven with a police investigation (led by a stellar Tim Roth) that could hang Gere's character before he is even exposed for financial fraud.
Jarecki avoids all the pratfalls that could befall a director helming a cerebral thrill ride. Arbitrage is one of his first feature films and that perhaps is why he simply puts it all out there without holding anything back. He doesn't self-censor parts of his story that more experienced directors may leave on the cutting room floor. As such, Gere and his cast portray characters that are fully flushed out and the audience leaves the theater completely satisfied with the film's conclusion.

Sarandon and Gere set off fireworks, with both deserving awards attention. If Gere isn't nominated for a Best Actor award this year, it is because 2012 is shaping up to be a crowded field for lead actors. He truly deserves the nod (surprisingly, it would be his first!) as the man with an esteemed career has turned in his most treasured performance.