With Bridesmaids scene-stealer Rebel Wilson as the bride whose wedding gets her lifelong friends together for a bachelorette party and next day nuptials, one would think it was her chance to shine. She plays a big enough part, but as the Bachelorette trailer shows off, the film is firmly Kirsten Dunst, Isla Fisher and Lizzy Caplan's.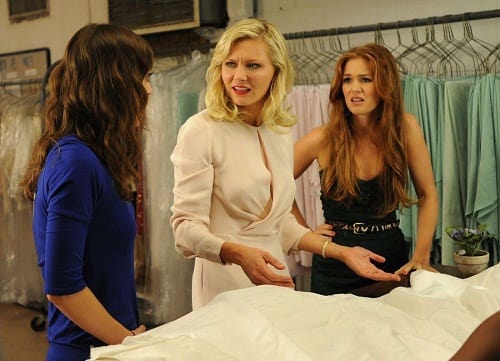 The trio gets together for the first time since high school and each has differing views of what this
Bachelorette
night should hold. Wilson wants something mellow, but Fisher, Dunst and Caplan are having none of that. Equipped with drugs, a hired stripper and an almost insatiable desire to consume alcohol, the three wind up ending Wilson's last night as a single woman prematurely.
That doesn't mean our comic threesome is finished.
It could be difficult to appreciate the three lead actresses for their work in the film. That is largely due to the utter lack of affinity the audience can have with their characters. They are not the nicest people in the world by a long shot. But, in the hands of these talented women, we cannot look away as the night gets quickly out of hand.
Bachelorette
is like
Bridesmaids
and
The Hangover
had a child. The film not only shows that women can have crass fun, but still maintain their affinity for each other that is at the heart of what drives most films with large female casts.
This is a movie to celebrate the talents of the three leads. But, it is Dunst who rises above them all. Her characterization is one for the ages. She manages to be an all-out evil person, but tosses around her bitchery solely for the good of her bride and her fellow bridesmaids. After her stirring turn in
Melancholia
last year (that should have resulted in an Oscar nomination for her), Movie Fanatic is excited to see where this next chapter of a talented actress' career heads.
Meanwhile, Fisher delivers on so many fronts. She has crafted a character that is simultaneously endearing, electric and very much driven by an ego of what she thinks she should be. And let's not forget our bride, Wilson. Although her role is minor, it's easy to see why she has been garnering so much buzz and we cannot wait to see more of her in the upcoming
Pitch Perfect.
Writer-director Leslye Headland has produced this film based on her stage play. Our
Bachelorette
review can easily see the film's origins in theater as the characters are so flushed out. That is exactly why such unlikeable people can be individuals that an audience will go along for a ride with hoping that they will, to paraphrase the famous song… "Make it to the church on time."