Movie Fanatic is happy to bring you an exclusive contest for End of Watch! The action film follows two LAPD officers who accidentally make a startling discovering, causing a dangerous drug cartel to come after them.
One lucky winner will receive an End of Watch t-shirt, along with an End of Watch movie poster signed by Jake Gyllenhaal, Michael Pena, David Ayer, Anna Kendrick (ParaNorman), and Natalie Martinez! Scroll down to find out how to enter!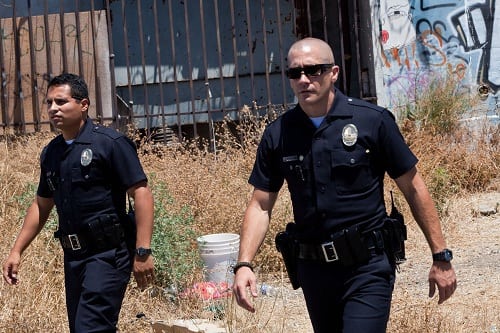 In End of Watch, Gyllenhaal and Pena play cops in one of the toughest divisions in the country. What's your favorite movie about police officers?
All you have to do to win is...
1. FOLLOW @MovieFanatic on Twitter.

2. RETWEET this tweet along with the title of your favorite cop movie. Make sure you include "@moviefanatic" and a link to this post in your tweet, so we can see it.
Be sure to follow us so we can contact you if you're the lucky winner. One lucky winner will be selected at random on Wednesday, September 26. Good luck!