Oscar nominee Richard Jenkins (most recently seen in Cabin in the Woods) could have his choice of roles. But the actor saw something, not only in Josh Radnor's script, but his potential as a director and co-star -- that made him jump at the opportunity to star in the How I Met Your Mother star's second writing-directing effort, Liberal Arts. "He's a really smart writer and a smart guy," Jenkins said in our exclusive interview.

"I knew him a little bit. I knew how articulate he was and how he has so much to say. And the truth is I liked him, I just liked him. That goes a long way, I tell you."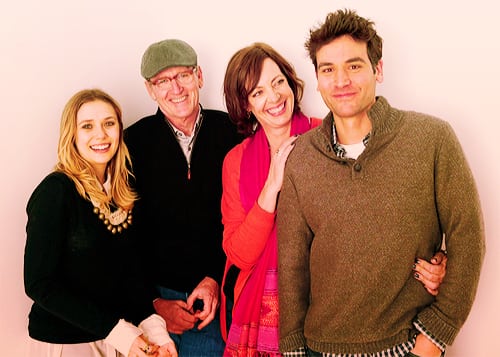 As told to us in our
Josh Radnor exclusive interview
, the
Liberal Arts
creator wrote the part of the retiring professor specifically for Jenkins. It appears as if there was a mutual admiration society going on at the Kenyon University in Ohio set.
"He's an actor so he understands how different actors have different ways of working and he allows for that," Jenkins said. "He had all his hats on -- actor, writer and director. It's beyond me how anybody can do it but he was pretty impressive, and when I saw the movie, it was different than what I thought it was going to be. But that was the movie that was in his little noggin while we were doing it."
Jenkins' character is a mentor to Radnor's and the reason why our story goes from the Manhattan locale where Radnor works to the lush campus. Jenkins is retiring, and he asks Radnor to speak at his retirement party. The only thing is: Jenkins' character is not so sure he wants to retire anymore. The feelings of regret can be often overplayed, or even underplayed, onscreen… something of which Jenkins was keenly aware. But, he was never concerned given Radnor's whip-smart script.
"It wasn't something I worried about because the movie is fairly light and fun as I dragged us down into the depths of despair. The truth is this is the guy he wrote. And what I thought about him was he felt he was ready to retire until the day came and he just panicked," Jenkins said. "I kind of had to do what was there. I didn't want to manipulate it in any way. I just wanted to follow it and see what happened."
There are two classic Jenkins scenes in
Liberal Arts
-- the retirement party and one where he begs for his job back. Both found the actor leaving every ounce of energy and personal power on the screen. "I think the biggest surprise was the speech at the retirement dinner which was fairly embarrassing," he said and laughed.
"And the scene where I beg for my job back, literally I do. That kind of just happened in that room doing it. I kind of lost it a little bit. I worried that it was going to be too emotional for the rest of the film but I don't think so. It fits well and it also helps Josh's character come to some kind of understanding about who he is too."
If Jenkins is impressed with Radnor, his impression of
Liberal Arts
co-star Elizabeth Olsen -- if possible -- eclipses that.
"I know this… that at her age there's no way I could have done what she is doing. I didn't have the maturity. I didn't have the understanding. I didn't have the looks either," Jenkins said and laughed.
The actor found an actress in Olsen who is continually striving to find the best. "She's really impressive. That's the only thing she's interested in is finding interesting projects, working with interesting people, becoming a better actress every time," Jenkins added.
"She's just got it. Some people have it and she's got it. I just adore her. She's fun to be with, great to spend time with, smart and funny. As we say, she's hot s***."