For the upcoming Blu-Ray release of the entire Indiana Jones saga, Steven Spielberg and George Lucas restored prints that had suffered from the perils of age. The filmmakers were so blown away at the conversion that they are releasing the first of the saga that introduced us to Harrison Ford's hero on IMAX theaters for one week only, September 7 through September 13. Our Raiders of the Lost Ark review can state emphatically: Run, don't walk to see Indy on the big screen!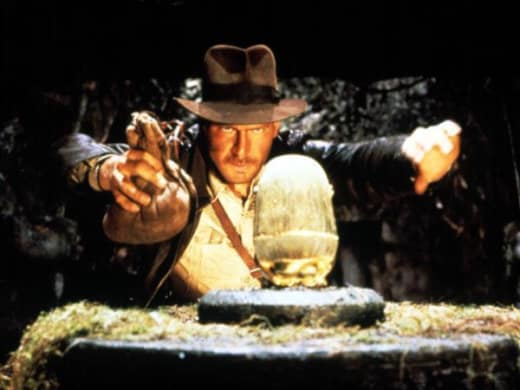 Is it worth catching
Raiders of the Lost Ark on IMAX
? Movie Fanatic could not be more encouraging of audiences to turn out in droves to catch Indiana Jones as he goes after the most elusive of archeological finds… the Ark of the Covenant.
As the first frames rolled, it became immediately clear that
Raiders of the Lost Ark
did not look or sound like a 30-year-old movie. It's easy to see why Lucas and Spielberg were so impressed that they felt confident stretching their hero's tale across IMAX screens. With a viewing space that massive, visual "errors" could be even easier to witness.
Another element that permeates the seeing of
Raiders of the Lost Ark
on the big screen is the overwhelming sense that this is a film that has aged well. We're talking about the story and not necessarily the quality of the production.
Spielberg has masterfully crafted a timeless tale and we all know how it has enthralled generations since its debut, but with its IMAX screening fresh on our mind, it is clear this is one of those Hollywood films that will still be thrilling us for decades to come… even centuries. Even the
Raiders of the Lost Ark quotes
stand the test of time!
Although Ford proved his Hollywood heroics with his turn as Han Solo, it was his characterization of Jones that in our opinion, is his most indelible. He plays Indy as a man who is grounded in reality, as shown by his scenes teaching archeology, but who is also capable of great acts of bravery in the face of sheer terror and hopelessness of survival.
It's also hard to believe that there are so many iconic moments in one movie as seen in
Raiders of the Lost Ark
on IMAX. The golden statue swap at the beginning of the movie and the subsequent boulder rolling towards him as he runs away are simply the first two. Who could forget the fight with the hulky Nazi as the war plane spins around perilously?
Those are just a few examples, but Spielberg and Lucas have put together one of the great films of not only our time, but of all time.