What is Hotel Transylvania star Selena Gomez's favorite song performed by her co-star Andy Samberg?
The answer -- courtesy of our exclusive video interview with the lead actors from the latest treat out of Sony Pictures Animation -- may surprise you.
"Will you please say it?" Gomez said, almost embarrassingly, to Samberg.

"I'm not going to say your favorite song of mine," Samberg replied.

"No!" Gomez teased, clearly not ready to admit her favorite track by Samberg's band, The Lonely Island.

But Movie Fanatic got the answer -- Jizz in My Pants -- and Gomez's reaction to its reveal is priceless!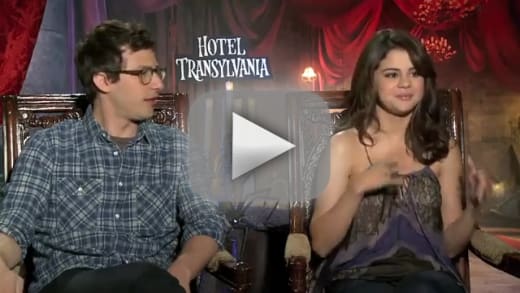 In the film, Selena Gomez portrays Mavis, the daughter of Dracula (Adam Sandler). Meanwhile, Samberg takes on the well-traveled American who lands at this private resort for monsters. The movie shows how we have classically seen monsters as a threat, but they too see us as a danger!
The Hotel Transylvania stars met us at the Toronto International Film Festival for a chat about their film, but it turned into so much more. Watch now.