These new The Hobbit stills feature a whole lot of gazing in wonder beyond the frame. I wonder what's back there? I bet it's ice cream-related. Take a look (click thumbnails to enlarge):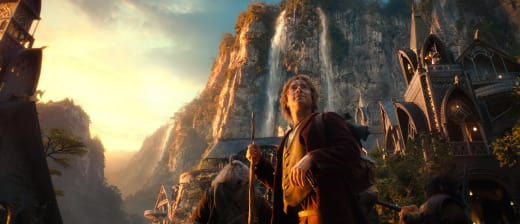 The Hobbit will be released in three parts, with the first part, An Unexpected Journey, hitting theaters December 14. The Desolation of Smaug will come out in 2013, with There and Back Again set for 2014.
Martin Freeman (Hot Fuzz) stars as Bilbo Baggins, with Ian McKellen as Gandalf the Grey, and Richard Armitage as Thorin Oakenshield. Benedict Cumberbatch, Hugo Weaving (Cloud Atlas), Stephen Fry, Luke Evans, and Elijah Wood also star.
Take a look at some more The Hobbit stills, and catch the film in theaters later this year.