The Master screened at the Toronto International Film Festival with a bevy of buzz that the Paul Thomas Anderson film had Oscar written all over it. Did it live up to the hype? Yes and no.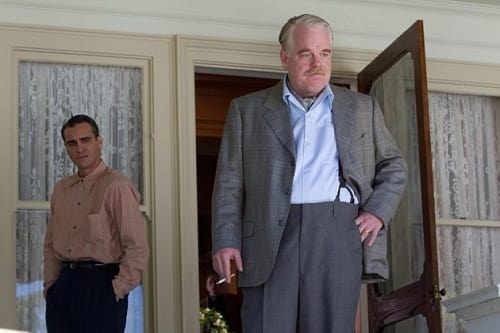 The problem with seeing a film where the collective consciousness dictates that this is a movie that will blow you away is it's a gift and a curse. If it fulfills promise, you have an unbeatable critical and box office winner. If the work falls flat -- even in the slightest -- the groundswell of disappointment can bury it, even if the film is still truly good. Such is the case with
The Master
.
First and foremost 
The Master
is an actor's film. Audiences who treasure phenomenal work by thespians will treasure the miracle that is the lead performances. Joaquin Phoenix, Philip Seymour Hoffman and
Amy Adams
put on a clinic.
Phoenix is truly our primary protagonist. He is a veteran, fresh from the horrors of the Pacific World War II, who is meandering aimlessly through his post-war life in San Francisco. One drunken evening, he stumbles on a yacht as a stowaway. When he awakes, Hoffman's Lancaster Dodd is taken by the young man. Something about him is charming.
Hoffman, we soon learn, is the leader of a group who call themselves The Cause. They are cult-like, yet in a highly intellectual way. Mid-twentieth century is challenged by them and their beliefs and that facet of the plot will simmer well into the third act. But it isn't Anderson's only source of tension.
Phoenix's Freddy and his presence is both inspiring and dividing the group. The Master's (Hoffman) sons feel that they're the heir apparent and resent the fatherly relationship Dodd has with Freddie. Adams' wife of Dodd questions the man's intentions -- all while he makes Freddie more and more of a confidant.
Some have speculated, after viewing
The Master trailer
, that the film is based on the beginnings of Scientology -- that Hoffman's Dodd is a mirror for the life of L. Ron Hubbard. That's up for interpretation, but one never considers that fact while watching the film.
Anderson has all the elements of a Best Picture-type work. But, his story suffers under the powerful weight of its premise and, honestly, expectations.