The three-day weekend results are in, and The Possession holds the top spot. The horror film follows a little girl who becomes possessed by a dybbuk, a demon from Jewish folklore. It took in $21.3 million in its premiere weekend.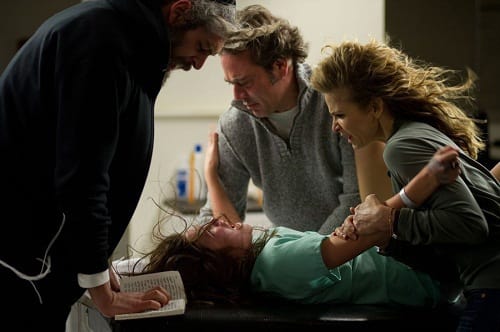 Lawless, also premiering this weekend, took the second spot with $13 million. The bootlegging film stars Tom Hardy (The Dark Knight Rises), Shia LaBeouff, and Jason Clarke.
Dropping from first to third this weekend is The Expendables 2. The action-packed action film was at the top of the list for its first two weekends, and has now added $11.2 million to bring its total gross to $68.6 million.
The Bourne Legacy and ParaNorman round at the top five, earning $9.4 million and $8.9 million, respectively.
Box Office Top 10:
1. The Possession, $21.3 million
2. Lawless, $13 million
3. The Expendables 2, $11.2 million
4. The Bourne Legacy, $9.4 million
5. ParaNorman, $8.9 million
6. The Odd Life of Timothy Green, $8.5 million
7. The Dark Knight Rises, $7.9 million
8. 2016: Obama's America, $7.1 million
9. The Campaign, $7 million
10. Hope Springs, $6 million