Tournament of Movie Fanatic: Comedy Bracket Announced!
by MF Staff at . Comments
Movie Fanatic is excited to announce our first Tournament of Movie Fanatic bracket! Here's how it works: Our very own Joel Amos (the red team) and Micah Gordon (the blue team) nominate their top 8 movies in a given category, then pit them head-to-head in a playoff-style bracket, where you, the reader, gets to vote for your favorite. We'll reveal two new matchups each Monday and Friday, until we crown one movie the Movie Fanatic Champion!
The first contest category is: Comedy! Check out the first two matchups (click the bracket for a larger version), read our pitches, and vote for your favorite! The results will be announced on Friday, when the next two matchups are revealed.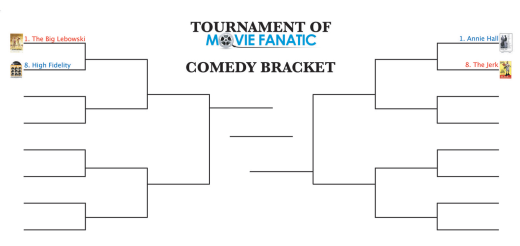 The Big Lebowski: Although The Big Lebowski didn't find an audience when it first hit theaters in 1998, it has become a blockbuster on home video. The film is pure Coen Brothers and shows that the guys who have become known for quite serious films (True Grit anyone?) have one heck of a sense of humor. There are so many iconic moments in the movie, it has also become one of the most quotable comedies of all time. Jeff Bridges' characterization of The Dude has become his most recognizable role and who could forget the straight-man comic brilliance of John Goodman? Simply… the best! Visit our The Big Lebowski quotes page for more.
vs.
High Fidelity: A celebration of all things nerd culture, High Fidelity is a comedy for the narcissistic, development-arrested, possession-acquiring gen-Y lifestyle. Its characters are petty and obnoxious, but so freaking identifiable and hilarious. Jack Black gives the best performance of his career, with John Cusack's deadpan depressiveness providing its fair share of comedy gold. Visit our High Fidelity quotes page for more.
Which film is best?
Annie Hall: The King of Neurotic Comedy's bumbling opus, Annie Hall is easily Woody Allen's funniest film. It's the quintessential romantic comedy, with two truly captivating characters, that does what so many rom-coms fail to do: actually leaves its audience rooting for the couple, despite all their flaws, to make it. Not two minutes of screen time seems to go by without a smart, mind-numbingly hilarious laugh. Visit our Annie Hall quotes page for more.
vs.
The Jerk: Steve Martin took an almost inane concept and turned it into one of the best comedies of all time. The Jerk is funny on so many levels. First, the idea that this simpleton makes it from being "a poor black child" to one of the country's richest men is a hoot. Second, his naiveté is played for humor so effectively -- no one else other than Martin could have pulled it off. Finally, the film stands the test of time. It is as funny and relevant today as it was when it premiered in 1979. Visit our The Jerk quotes page for more.
Which film is best?