Viola Davis and Maggie Gyllenhaal starring in a "based on a true story" tale about parents and teachers trying to make their failing school better in Won't Back Down and you should have something that screams for Oscar attention. For one thing, Davis and Gyllenhaal deserve consideration for their emotionally moving performances. And the film itself is a rousing inspiration, with only one real drawback.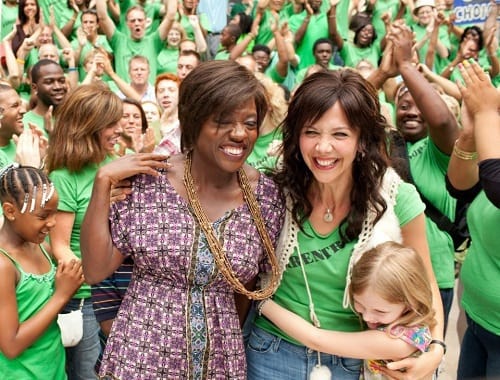 Daniel Barnz directs from a script he wrote with Brin Hill that captures brilliantly the passion of educators who are in it for the betterment of humankind. Hill and Barnz also paint a picture of parents who will go to the ends of the earth to improve the lives of their children.
Davis is an educator who possesses great talent at imparting knowledge, but who has been worn down by a system that fails her (ironically the school is failing her child as well). Gyllenhaal is a working class woman whose daughter is struggling in school and has the unfortunate luck of being in the classroom across the hall from Davis' caring, yet handcuffed, teacher. Gyllenhaal's daughter has a teacher who is clearly only in it for the tenure.
When it appears that the school board and even a large group of teachers are unwilling to change the system, Gyllenhaal takes it upon herself to try to "take over" the school from the district. She enlists a reluctant, at first, Davis and their battle to make their institution perform at the levels it should begins.
In a story like this, even one based on true events, it is easy to expect a backlash from the bureaucracy that seems to live for making life complicated. But in
Won't Back Down
, the push-back also comes from several teachers at the school. The reason is that they fear for their jobs. If a school is "taken over" by parents when it is approved by the school board… the union is driven out and parents reserve the right to remove teachers who are not producing students that succeed.
At a time when unions are being bashed, like in the recent troubles in Wisconsin, it could be a dangerous position to paint a teacher's union in a dark light. But that is exactly what Hill does in his picture. Sure, the board resists, but that is to be expected. But the blind allegiance a majority of the teachers have -- because of their union -- paints them in the most unflattering of lights. It may be true to the stories that inspired
Won't Back Down
, but there might have been a better way to portray a union resisting change without vilifying them.
But that is a small bone to pick with the film.
Won't Back Down
is an inspiring tale, to both educators, parents and anyone affected by the public school system in America. As the news paints our fall from a top tier-educated nation to one in the lower third, the film is timely as well. By the end, the audience should rise and cheer as those onscreen do when they get a taste of justice served.