When it came time to put together the Abraham Lincoln: Vampire Hunter Blu-Ray package (out now), Javier Soto was approached about bringing The Great Calamity -- an animated graphic novel -- to life as part of the bonus features on the disc. It would use elements of the novel by Seth Grahame Smith and his screenplay to tell a different story based in the same world.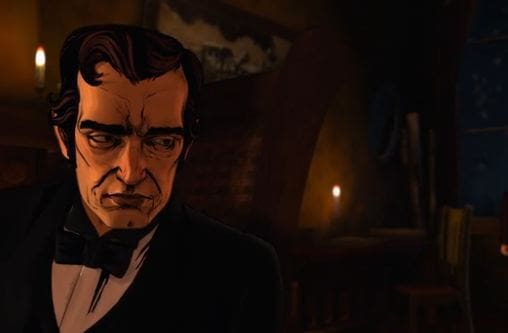 Soto, Content Director/Producer of the astounding work, phoned Movie Fanatic for an exclusive interview to take us inside this unique creative process. "It's an incredible opportunity to expand the movie universe," Soto said. "This type of film and its genre is an interesting take on a great novel, to really stretch out the parameters of what the movie can accomplish versus what was in the book."
The filmmaker worked hand in hand with the theatrical production that starred Benjamin Walker as the titular president who battles the vampire plague, while he crafted his animated short. That meant seeing the script by Smith before a single frame of
Abraham Lincoln: Vampire Hunter
was shot and being able to witness dailies courtesy of the film's director, Timur Bekmambetov and producer Tim Burton.
Clearly Smith could not put every aspect of his novel on the screen, so the short
The Great Calamity
allowed him and Soto to combine forces and add layers to the world that Bekmambetov was creating. "A lot of the DNA of the book was in the screenplay. It allowed us to pull the atmosphere before a frame of the film was shot and capture the mood. We knew Timur was going to be involved so there had to be a frenetic action sequence in there somewhere," Soto said and laughed.
Soto was clear with his mission. This was not going to be a Saturday morning cartoon version of the
Abraham Lincoln: Vampire Hunter
world. He wanted to capture the spirit, the feel and as such, was able to be inspired by daily updates from the film's shoot.
"The filmmakers were involved all along the way while letting us do our own thing. I wanted to create a pocket universe that felt that it could reside within what they were doing," Soto admitted.
It is clear in our exclusive chat that Soto was beyond pleased to have their participation. "It was an incredible opportunity. To have a piece that is presented by Timur and Tim Burton is a pretty astounding thing. I feel pretty honored that they allowed me to be a part of their universe."
The filmmaker refers to another graphic animated film that was inspired by another mind-blowing film. "Our template always was that this should be like
The Animatrix
, where it's an interpretation of
The Matrix
universe, but not an exact replica of what they were doing with the film."
Taking someone as iconic as our sixteenth president and making him an action hero who slays vampires while trying to save the union, Soto feels, is a unique and powerful image.
"It's such an interesting take on someone who is so familiar to so many people. The book painted the picture of what he needed to be like," Soto said. He cautions that in
The Great Calamity
, he is a supporting character. "I wanted Lincoln to introduce the world and our Lincoln to be congruent with the screenplay and the dailies that I saw as they were shooting. I wanted to have the look that Benjamin (Walker) had, but the same approach as he is a troubled hero with a dark secret," he said.
Another facet of the big screen film that enhanced
The Great Calamity
is having Lincoln himself, Walker, able to record the voice-over for Soto's film. "He helped tie things together but also gave him a lot of his personality. It was an incredibly collaborating experience," Soto said. "He gave us a lot of options. He didn't just read the lines. He appreciated what we were doing and contributed to the entire experience."
Will there be more from this graphic novel animated world of Abe Lincoln?
"I think we can. The thing with animation once you build the story, you can go further with the characters," Soto said. "If there's a story that is interesting to merit further adventures, we can do it."