The most impressive aspect of the Blade Runner 30th Anniversary Collector's Edition four-disc Blu-Ray set is how the Ridley Scott masterpiece does not look like a thirty-year-old movie. Then again, it was timeless when it premiered and one reason why it's one of our top 10 sci-fi movies of all time.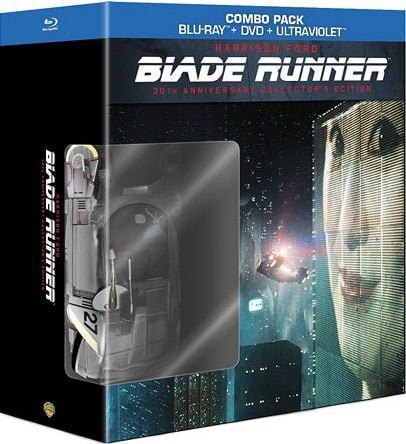 Scott has famously tinkered with his second foray into sci-fi after
Alien
, getting ever closer to his vision for what his
Blade Runner
should be. Each version has its moments that fans of the film will treasure and in the four-disc set… all four versions are here: The 1992's Director's Cut, the Domestic Cut, the International Theatrical version and the rarest of rare Workprint feature.
While a
Blade Runner reboot or sequel
has aficionados talking, they will treasure the new photos that have emerged and showcased in a 72-page art book containing over 1,000 archive images that takes you further inside the magic of what Scott achieved when the film arrived in 1982. There is also the 10-plus hours of bonus content that was initially featured in the 2007 home video release.
The box set that we received cause a bit of a gasp upon its reveal.
Blade Runner
was one of the films that put the fanatic in this Movie Fanatic.
Two things stare at you, the LCD image of an women smiling at the camera in a shot from the vividly designed Scott set… and a toy. Yes, it's a tiny replica of the Spinner car used in 2019 Los Angeles in the film.
Package bonuses aside, whether to bring home the 30th Anniversary Blu-Ray of Blade Runner comes down to what's inside and that is nothing short of brilliance at work. Harrison Ford may be better known for Han Solo or Indiana Jones, but it is his performance in Blade Runner as Rick Deckard that should sit right alongside those two iconic roles. Watching him track down replicants after three decades is still something to marvel. The nuances of his action hero with a sense of humor were truly further honed on Scott's set.

And don't get us started on the power of Rutger Hauer's Roy Batty. Has a villain rarely been so equally vicious and vicarious? And as a fan of Scott's work over the years, it's fascinating to go between the various versions of the film and search for little Easter Eggs of what the visionary filmmaker saw as he further tweaked his film towards perfection.