Butter arrives in theaters fresh off the most highly rated presidential debate in two decades and its timing could not be better.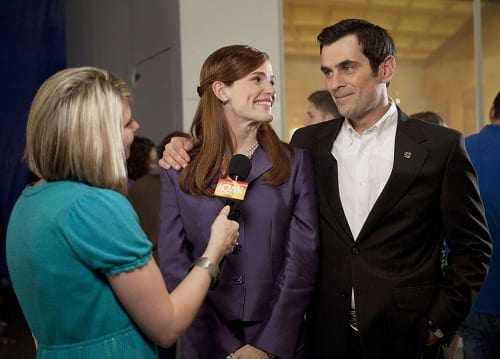 Jennifer Garner
stars as a Hillary Clinton type who for years sat in the shadows feeling like she was the brains and charisma behind her husband's success as an Iowa Butter Carving Champion. When time and scandal force him to not compete to retain his title, her Laura Pickler jumps in to take over the family business and keep them ruling.
Yara Shahidi is a young, African American contender who comes out of nowhere to dominate the headlines in the butter carving qualifying rounds across Iowa. One cannot immediately sense the similarity between Butter and the Iowa Caucus of 2008 between Clinton and upstart Barack Obama. It is so shrewdly captured in the film, that the viewer gets so caught up in the actual story of competing butter carvers, it can be lost where the inspiration came from.
There are even scenes that directly mirror that campaign. Clinton's "you know the right thing to do" message to Iowa voters is heard in a speech that Pickler gives in front of those who vote and thus, control who wins. It is astounding and so wickedly smart.
Butter
covers unique ground in storytelling, while still reminding us of its 2008 primary narrative. Garner's onscreen husband (
Modern Family
star Ty Burrell) is caught having an affair, for one. Sound familiar?
The film from director Jim Field Smith and writer Jason A. Micallef possesses an extraordinary cast, each hired for their skills, while the name recognition couldn't hurt either.
The Twilight Saga
star Ashley Greene is Garner and Burrell's daughter, Hugh Jackman is a local car dealer with a past that connects him to Garner, and Alicia Silverstone and Rob Corddry are parents who adopt Shahidi's Destiny. Yup… that's her name.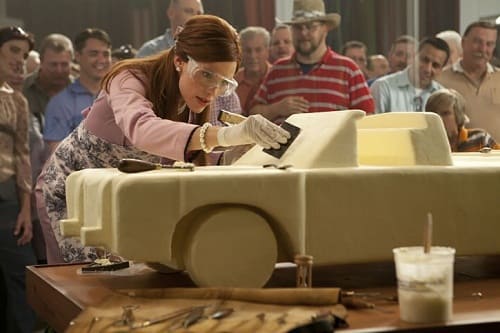 Some said that name when it came to a certain former Illinois senator and his run for the presidency. With that Iowa Caucus win, Obama was catapulted, essentially… to the White House.
Butter
is not a mirror image, but its inspiration is clear. Some publications have painted the film as a failure because they compared Garner's character to Sarah Palin.
That could not be further from the truth. Why would Palin ever be in Iowa in a caucus-type challenge?
Butter finds Garner giving a speech
like a 2008 Hillary Clinton who was on the ropes. It impeccably reminds us of our current Secretary of State. It's too much to ignore and as such, Movie Fanatic feels that Smith and Micallef have crafted a blazingly boisterous fictional account of history from a point of view that is most unexpected.
Through a dairy carving competition,
Butter
captures the crazy nuances of the catalyst that was the 2008 Hawkeye State Caucuses.
Butter
is... to paraphrase Mike Meyers on
SNL
, "like buttah."