In many ways, Denzel Washington had a recurring dream that could be seen as a precursor to his starring as a pilot in Robert Zemeckis' Flight. "I have a flying dream. I've had it for most of my life," Washington said to Movie Fanatic.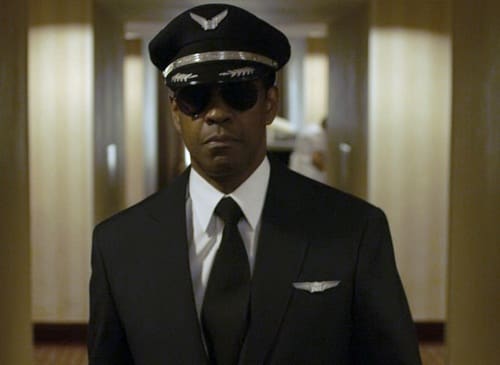 Well maybe he's not piloting a plane, but he is soaring through the air. "Somehow I always end up near the city and I go underneath bridges. Then I would have the other part of the dream, it would be this complicated takeoff that takes forever, and I would be like, 'Oh, I've got to stay below the street wires.' And then I'm starting to go back up, but then, you know, I've got to get back below the wires. I have no idea about what it means."
One could interpret that his subconscious was looking for a film that challenged him as an actor in ways he could never have imagined -- to fly ever higher. Washington portrays Whip Whitaker, an alcohol and drug-addled pilot who saves an airliner from crashing and killing everyone aboard. The astounding moral questions that arise in the film cause the audience to wonder where the line is between right and wrong and what fate has in mind for all of us.
It could seem like a tough film shoot, but for the Oscar winner, the hard movies to film are so because of something completely different.
"You know, tough spots for me are pictures I don't want to be on. When the people say, 'What's the hardest part of a movie?' You know, if you're on a movie and it's like the third day and you go, 'How many days have we been shooting?' 'Like three.' 'How many more have we got to go?' '117.' That's a tough movie for me," Washington said and laughed.
Flight
may have been emotionally trying, but it was a welcome journey. "This was an adventure! Starting with the screenplay, the collaboration with the filmmaker and getting the chance to fly around in flight simulators, these MD-80 flight simulators, hanging upside down in the plane, playing a drunk. I wouldn't say it was easy. But it was fun."
Although, there was one scene that did strike an emotional chord that may have been a little too close to home. "I don't know if it was painful but the scene when I go to my ex-wife's house, and get into this wrestling match with my son," Washington said.
In the film, his relationship with his boy is tepid to say the least. Definitely distant from the truth of his own relationship with his kids, but it still rang true. "I've gotten into wrestling matches with my son. It's not quite the same circumstance, but you're raw. It was just raw. Your nerves are raw."
It could be easy to think that the actor tackled the role, in one part, to help addicts out there see a little of themselves in Whip, but Washington admitted that his choice to inhabit this flawed character had more to do with the story itself.
"When I read the material, the script, I just said, 'Wow, this is good.' My agent, the late Ed Limato, the last two scripts he gave me were Flight and Safe House. That was a part of it, too. Just a promise I made to him," Washington said.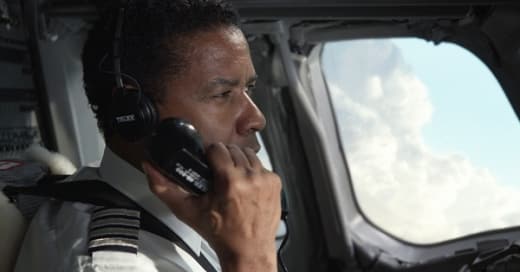 The actor does not like to tell an audience what to expect from his films. He simply wants them to draw their own conclusions. "I don't like waving the flag and trying to figure it out. It's like when people say, 'Well, what do you want people to get from this movie?' I say, 'Well, it depends upon what they bring to it.' I don't try to decide what people should get from it or why. I don't do a part for those kinds of reasons."
Flight
plays with the ambiguities of heroism, something that Washington hopes the audience will debate, long after the credits roll. In fact, the film complicates things by adding in the interests of the airline, the pilot's union and the National Transportation Safety Board and how Whip's actions and demeanor affects their bottom line.
"I think that everybody was covering their own behinds is what it was, the pilots, and the airlines," Washington said. "I don't know if it was just so much they thought he was such a great hero as it was they needed him to be one in order to fulfill their agenda."