Martin Landau visited with Movie Fanatic at the happiest place on Earth, Disneyland, and it could not have been more fitting. Landau has worked with director Tim Burton three times now, with his work on Ed Wood earning the actor an Oscar, and now he's back with Burton on Frankenweenie. We cannot decide who's happier, the tens of thousands parading through the park's gates, or Landau discussing his affection for his helmer.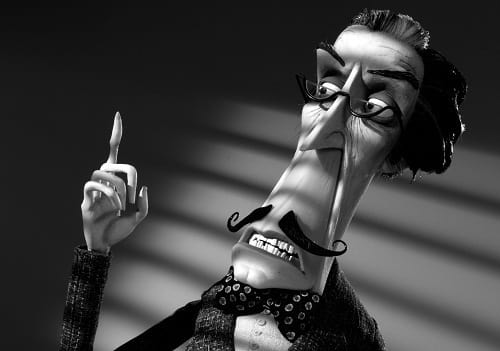 "He's a friend and I love him," Landau said in our exclusive interview.
Whether working with Burton on
Sleepy Hollow
,
Ed Wood
or now
Frankenweenie
, Landau noticed the same working landscape with Burton. "He creates a playground. Good directors do that and they don't direct a lot. They hire the right people that can play the part. They open the door and let you play. All an audience wants to believe is what's going on up there is happening for the first time ever," Landau said.
The actor has also noticed that the director only works with top-rate actors. That's probably why the helmer almost has his own repertory group with people like him, Johnny Depp, Winona Ryder, Catherine O'Hara and Martin Short.

"You don't want to see the rehearsals or the slickness. It should be unpredictable."

Another perk of joining the Frankenweenie cast was his utter adoration for his character, the science teacher Mr. Rzykruski. "I love this character," he said and smiled broadly.

"He can't lie. He's totally undiplomatic. I had a vision of him, every school he teaches in, he's probably fired after two months. And he's a great teacher," Landau added.

One of our favorite scenes is when an auditorium full of parents are questioning Mr. Rzykruski because of his science teachings. They feel threatened by it and he simply responds to the inquisition by calling everyone idiots. "That scene perfectly exemplifies my character. Everything's questioned, by people who shouldn't question it because they don't know anything. You don't tell your students' parents that you're stupid and expect to hold that job!"

The science teacher inspires the main character in Frankenweenie, Victor Frankenstein, and thus drives the story. Victor adores his pup Sparky (ironic name in hindsight). When he unexpectedly dies, the boy summons lessons he's learned from Mr. Rzykruski and brings the dog back to life. 

"There's something sweet, sad and awful about this guy," Landau said. "In Victor, he sees himself as a kid. He's a catalyst for the movie actually."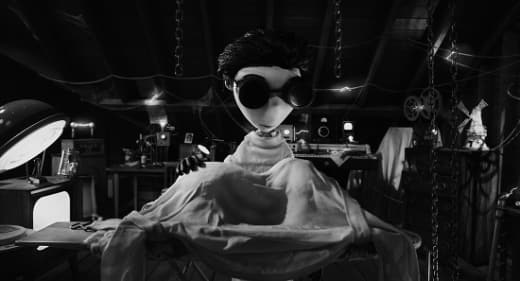 His character has a mysterious accent that Landau had to craft on his own. "The fun part of it for me was when I got the script it said he was European. But then it told me what he wasn't. He's not Slovakian. He's not Hungarian. He's not German. He's not Russian. He's European. So what Tim wanted was a generic European sound as opposed to
Ed Wood
, where I was Hungarian. I made up that he's from the fictional Slobovia," he said and laughed.
"Slobovia's where the Slobs come from!"
In the end, our conversation returns to directors, of which Landau feels Burton -- when all is said and done -- will sit amongst the greats. After all, Landau knows, as he has been directed by Alfred Hitchcock, Francis Ford Coppola, Woody Allen and George Stevens. 
"I think Tim's moving there now. The thing about Tim is he's an A-list director who's allowed to make movies that interest him. There's no one else like that," Landau said.

"Tim… it's almost a miracle if you think about it because he only makes films that were his predilections. You could offer him billions of dollars, and he'd say, 'I don't like that.' That's awfully refreshing."
"You ruin a take by laughing out loud. In Ed Wood, there were four in a row when I did the thing about (Boris) Karloff. There was laughter and the sound man had to stop it. 'Someone's laughing,' the sound man said. And it was Tim!"
Burton and Landau both began their careers as cartoonists. "He's a kindred spirit. There's a kinesthetic kind of connection. It's creative as hell."