With the Kevin James-starring Here Comes the Boom, Henry Winkler has now made five movies with the Adam Sandler production company Happy Madison. "Both Adam and Kevin are based in the heart," Winkler said of his work that includes The Waterboy. "Everything that they do has tremendous emotionality."

Winkler visited with Movie Fanatic for an exclusive video interview where he talks about the magic of the comic company and how when James calls, you join his film about a high school teacher who takes to the MMA circuit to raise money for Winkler's school orchestra.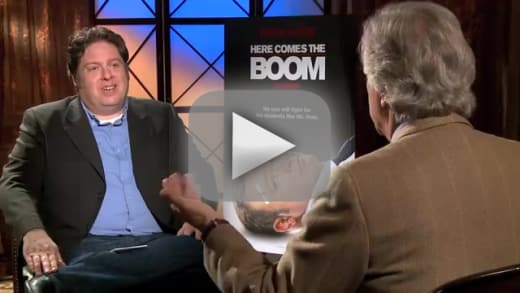 If he's a little excited about his arena entry dance with James' character, you can forgive him for being proud of unleashing his inner Boogie Man. "Funkmeister, is it? Whatever came to my mind, came to my body," he said and laughed.

How one teacher can change a life is an often used theme of Here Comes the Boom and we get Winkler to reflect on the educator that forever altered his professional trajectory. And we could not let "The Fonz" go without asking what it meant to him to have that legendary character's leather jacket in the Smithsonian in Washington, D.C.